Global Groove
Sundays 9am-Noon, featuring World music and much more to get you up and groovin'.
Bennett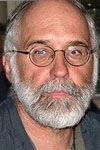 EMAIL
I've moved from The Ink Blot to Global Groove, allowing me to play world music from my travels in Africa and Europe as well as other wonderful contemporary world music. I also sub for The Orbit Lounge, Folkwaves, Let's Jazz Out, Drive Time Jazz and any other program that fits my schedule. I do two Public Affairs Programs: Bird Talk (GV Audubon), and the Riverfront Program.
Having served in the Peace Corps in Kenya and Tanzania for three years, I grew to like the pulsating sounds of contemporary African music, but I also am interested in exploring music venues from around the world, especially Greek and French contemporary music, but also salsa and Latin American tunes. However, that is not the extent of the types of music I like. Included in my favorites: jazz, Americana, classical and Celtic.
Some of my favorite albums this year include Angelique Kidjoo's DJIN, DJIN, Diana Krall's LIVE IN PARIS, and the Putamayo collection, WORLD HITS. I also like anything by Anita Baker, the Beatles, Mozart, John Coltrane, Yo Yo Ma, et al.
Sarahndipity
EMAIL
Tapping toes to tight guitar licks, reveling in rasta reggae, frolicking at hundreds of concerts and festivals, I surrender my all to music's serenade. Music and dance are the lifeblood of my creative efforts, the spark that tickles my fancy. I love igniting that flame in others. For me, becoming a programmer at KAFM was an "occurrence and development of events by chance in a happy way." It was simply Sarahndipity.
Music is an ongoing conversation into the mystery of my own self. Beats of connectedness, rhythms of exultation, tones of dancing bliss, all riff together to create the soundtrack to life. One of my great passions has become sharing that harmonious sound with KAFM listeners and our global community. My life's purpose finally glistens with full awareness; I am meant to share a joyful loving heart with the world.
Cat's Pajamas
Rasta, World, and more!
JahSeekah
She'll getcha movin' on your Sunday mornings, regularly featuring some very special guests.
Mr. Irie
Community Events
What's happening around town?
---