The Eclectic Ear
True variety to relax to after work! Hosts Joe Natty, Betty Boop and Jenny on the Block

Mondays from 4-6:30pm.
The Beat Junky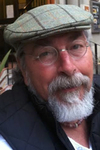 EMAIL
The Beat Junky's appreciation for music began at an early age while growing up on the East Coast. His father, a big band fan, would take the family to Atlantic City, NJ every summer where the biggest names appeared regularly at the "Fabulous Steel Pier". Attending performances by Glenn Miller, The Dorsey Brothers, Louis Armstrong, Benny Goodman and the like seeded his life-long love of live music. He was also fortunate enough to have been given music lessons during this time, playing in various school musical groups and formed his own rock cover band, "The Pacifiers", in high school. He continued playing local gigs with the band through college.
Fast forward - 1970 ~ 2012: Although The Beat Junky no longer played music during this period he never stopped listening, seeking out the top acts in Rock, Blues and World Music wherever he could find them, from Washington, DC to Las Vegas. Settling in Grand Junction in 1979, it wasn't until shortly after retiring from a 'real job' in the spring of 2012 that he wandered into the KAFM Studios and volunteered to do 'whatever'. By that summer he was substituting for other programmers on a variety of shows and since November, 2012 has been a regular on "Eclectic Ear".
His music is typically 'Beat Heavy' driven by big bass and percussion!
Favorite Artists - Rock: Queen, Muse, The Parlotones, The Fratellis and of course, The Beatles; Blues: Albert Collins and Buddy Guy; World: Fela Kuti, Cheikh Lo, Oliver Mtukudzi, Angelique Kidjo, Bob Marley and others too numerous to mention.
Tune in and LISTEN!
Community Events
What's happening around town?
---