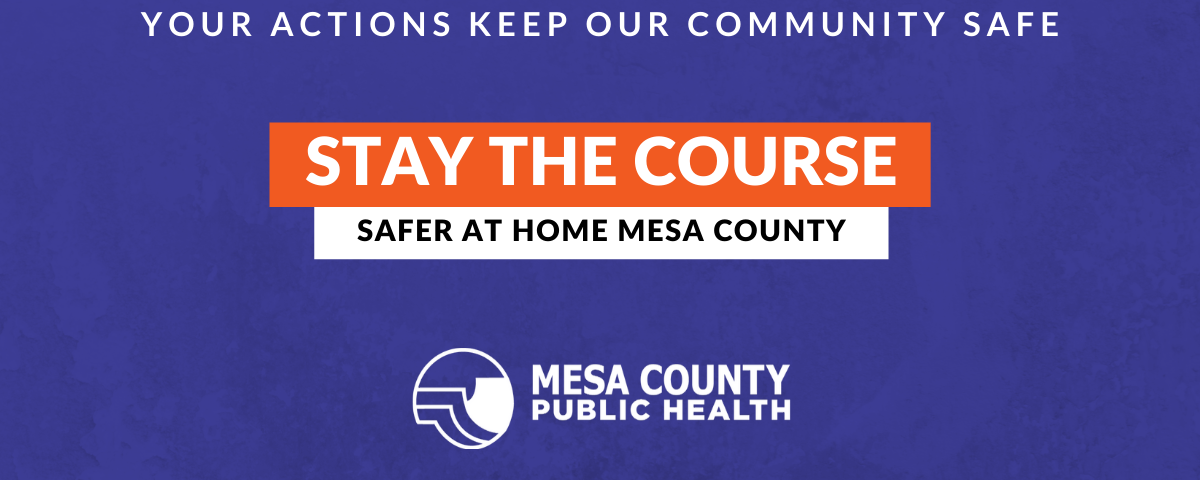 The COVID-19 Hotline 970-683-2300, has been set up as a resource for questions related to COVID-19. Volunteers are ready to answer questions or direct you to pre-screening.
"Mesa County Public Health (MCPH) continues to closely monitor case counts as well as illness in our community related to the COVID-19 pandemic. Mesa County has had 60 positive cases of COVID-19 confirmed through PCR, or nasal swab, testing. Of the positive cases, 53 are considered recovered, which MCPH defines as being more than 14 days from illness onset, or the day when symptoms started.
With increases in testing and relaxed social distancing measures, MCPH expects to see additional cases of COVID-19."
~ As Reported by Mesa County Public Health
Mesa County remains well prepared to handle an increase in cases. With a robust infrastructure in place to quickly identify and investigate illness in our community, but the recent increase serves as a reminder to stay the course.

Your actions keep our community safe:
Maintain 6 feet of physical distance between you and others.

Wash your hands frequently with soap and water.

Wear a cloth face covering over your nose and mouth in public.

Stay home if you are sick.

Get tested if symptoms appear.
Visit Mesa County Public Health for more information.
FEATURED PARTNER
We are proud to h

ave Community Hospital of Grand Junction as a valued Supporters and Underwriters. Community Hospital is a full-service, acute care hospital licensed for 60 beds. As part of the Colorado West Healthcare System, they are a Level III Trauma Center that offers full outpatient diagnostic services and inpatient care for the Western Slope region of Colorado and eastern Utah. Community Hospital brings together expert staff and world-class technology in a healing, family-centered environment.

Community Hospital provides a full range of medical services, including inpatient and outpatient surgery, and emergency care and has comprehensive diagnostic capabilities: state-of-the-art ultrasound, CT, digital mammography and cardiac testing. Community Hospital partners with University of Utah Heath Care and Huntsman Cancer Institute to provide world-class medical and radiation oncology treatment right here at home. For those lab tests that they do not conduct on site, the Mayo Clinic is their exclusive partner for reference laboratory services.

Community Hospital prides themselves on delivering personalized care to their patients, and in working closely with medical care providers in treating the whole person. This approach has resonated with their patients and they are growing to meet the community's demand.

More information available at yourcommunityhospital.com
7 WAYS TO SUPPORT LOCAL BUSINESS
Buy a Gift Card – Support service based businesses by purchasing a gift card now to use later. Your investment can help the business sustain themselves during this time and you'll be able to treat yourself later!
Buy Now, Pick Up Later – Support product based businesses by purchasing an item now to be picked up later. Many local restaurants are currently offering take-out or curbside pick up.
Tip & Say Thank You – Many employees are continuing to work with the public. Let them know you appreciate their hard work by tipping appropriately and remembering to say thank you.
Continue Your Membership or Subscription – Many organizations rely on membership or subscription based due. Support businesses by continuing these services.
Engage Online – Support local businesses by engaging with their online content. Spread encouragement by posting a positive comment, liking a post, and sharing content.

Talk to a Business Owner – Reach out to a local business owner and ask what you can do to support them at this time. Let them know they're not alone.
Stay Positive – Remember that we are a community and we are all in this together! Rather than spreading fear, seek opportunities to lend a helping hand and spread a positive message.
YOUR PUBLIC SERVICE PARTNER
KAFM is here for the community, working together with local non-profits to fulfill their missions to educate and improve the quality of life for everyone in the Grand Valley. If your non-profit organization has a message to share with our audience, please submit a PSA Request using our contact form, via fax at (970) 241-0995, or stop by our offices during business hours (Monday - Friday, 9am - 4pm).
KAFM is community radio,
and depends on your contributions to thrive.
Support KAFM
COMMUNITY RESOURCES
In an effort to support our community's public health and the well being of our local business community, we will be adding updates and resources regarding COVID-19. Please check our Community Resources page for full details.
PODCASTS
KAFM will be Posting a new podcast Weekly for our listeners while they are safe at home.

This Weeks podcast is State of the Arts: Live Streamed Music

But Wait There's More ... Podcasts from KAFM!
EVENTS
What's happening around town!
---
OUR PARTNERS