Mollie O'Brien and Rich Moore May 20th
The KAFM Radio Room presents an evening of music performed by Grammy winner Mollie O'Brien and her husband Rich Moore. They have for over 30 years made it their mission to unlock the secrets of the diverse array of styles that comprise the canon of American Roots music. Geniuses at interpretation and never sacrificing the essence of the songs they tackle, they are at home with their musical selves. They are unafraid of risk taking, authoritative in their performance and at the very top of their game. Doors will open at 7 and the music starts at 7:30pm. Tickets are $20 in advance, $22 at the door. Get them fast by calling 970.241.8801 click
here
Cat On A Hot Tin Roof June 5th
Cat On a Hot Tin Roof (1958) is the powerful, highly-charged, moving story of a neurotic, dysfunctional Southern family with its rivalries, tensions, and avarice. Its provocative screenplay by Richard Brooks and James Poe was adapted from the Pulitzer Prize-winning play of the same name by Tennessee Williams. Directed by Richard Brooks and Starring Elizabeth Taylor, Paul Newman, Burl Ives, Jack Carson, Judith Anderson, Madeleine Sherwood, Larry Gates. Southern patriarch Ives learns he is dying; his greedy family, except for son Newman, falls all over itself sucking up to him. Tennessee Williams' classic study of ``mendacity'' comes to the screen somewhat laundered but still packing a wallop. Adaptation by Brooks and James Poe.
Tickets
are $5
Sugar and The Mint on June 7th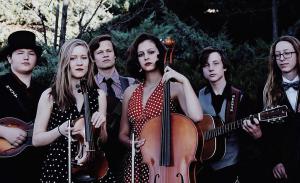 Sugar & The Mint, winners of the 2017 Telluride Bluegrass Festival, is comprised of six amazing young musicians ranging in age from 17-21. The band's repertoire spans many genres, including songs from artists like Bill Monroe, Robert Johnson, and even AC/DC, and they have shared the main stage with Norah Jones, the Punch Brothers, Sam Cush Bank, Hot Rize, and others. Sugar & The Mint (originally known as Generation) originated as a youth cultural music conservatory group with The Sharlot Hall Museum in Prescott, Arizona in 2011. A vibrant young band with a unique style, they play a blend of contemporary bluegrass and indie-folk music. In addition to winning last year's Telluride Bluegrass Festival, Sugar & The Mint's first place honors include Pickin' in the Pines Acoustic Music Festival, and the Wickenberg Arizona Bluegrass Festival. Their debut album, Grape Flavored was released in 2017, and their new album, Just Past Midnight will be out May 19th. Tickets are $12 in advance; $15 at the door and can be purchased by calling 970-241-8801, or online at
kafmradio.org
. Doors open at 7pm, and concert begins at 7:30pm.
Broadway Bound Theater Camp for Kids July 9th-20th
Express yourself this summer at KAFM Radio with Broadway Bound! Kids will be learning acting exercises including fun games, developing characters and stage presence. Directed by experienced actors, each participant will prepare a final monologue to perform on the last Friday for family and friends to enjoy. Open to kids ages 8 to 18. Sign up through
GJ Parks and Rec
, or for more info, call KAFM at 970.241.8801
Your Public Service Partner
KAFM is here for the community, working together with local non-profits to fulfill their missions to educate and improve the quality of life for everyone in the Grand Valley. If your non-profit organization has a message to share with our audience, please submit a PSA Request using our
contact form
, via fax at
(970) 241-0995
, or stop by our offices during business hours (Monday - Friday, 9am - 4pm).