What's Spinning
---
Colorado Gives Day December 10th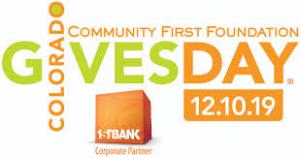 ColoradoGives Day 2019 is coming right up! We're set for Tuesday, December 10th! Last year, YOU helped us raise over $3,000 for KAFM! Lets see if we can raise that number this year! Click
HERE
to donate to KAFM! Colorado Gives Day will help your support go even further... Besides funding great music and community affairs programming, your individual contribution will help go even further to support KAFM when you send in the gift on COLORADO GIVES DAY, coming up December 10th, 2019! You can contribute any time during the year! Your dollars will go further to help KAFM provide our unique community service, just by scheduling your Donation at the right time. Colorado Gives Day and Community First Foundation and Firstbank will add to your contribution to KAFM with a portion of a $1 Million Incentive Fund. Pledge online at ColoradoGives.org, or you can even pre-schedule your gift to count on Colorado Gives Day. Either way, you'll increase the value of your commitment to KAFM! It is super easy! Just go to the following website and enter your donation of any amount for KAFM.
December 12th KAFM Holiday Open House
KAFM is hosting its annual Holiday Open House! Come to the Radio Room and enjoy a night of food, drinks, and a silent auction! All proceeds will go to KAFM. Doors open at 5pm with appetizers from Cafe Sol, Wine, Beer, Champagne! Do some last minute shopping for the Holidays at our silent auction then stay and watch the Modern Christmas classic "Scrooged" starring Bill Murray and Karen Allen.


AJ Fullerton returns January 17th
AJ Fullerton returns to the KAFM Radio Room on Friday, January 17th 2020! Playing solo, and in local bands throughout his mid-teens, by age 19 he was playing full-time supporting his rapidly developing solo career. His style of playing falls somewhere between the finger picking & slide of Country Roots music, and the groove based up-tempo sensibilities of Blues and Rock & Roll. Tickets are $20 Concert starts at 7:30 pm with doors opening at 7:00 pm.
Sir Kempson January 24th
Sir kempson comes to the Radio Room Friday january 24th. Sir Kempson is an alt-country trio that started in April of 2018. Originally from the Grand Valley, and now based in Carbondale Colorado. They are starting to make waves in the regional music scene. Featuring Guitar and Vocals from Hugh Phillips who delivers his originals and rare covers with a unique vocal dynamic. The rhythm section made up of Pete Langford playing bass and Duane Moore on percussion whose experience really round out the band's sound. The result is moving as it is intriguing. Tickets are $15 pre sale and $18 at the door concert starts at 7:30 doors open at 7:00.
Your Public Service Partner
KAFM is here for the community, working together with local non-profits to fulfill their missions to educate and improve the quality of life for everyone in the Grand Valley. If your non-profit organization has a message to share with our audience, please submit a PSA Request using our
contact form
, via fax at
(970) 241-0995
, or stop by our offices during business hours (Monday - Friday, 9am - 4pm).