All Greatful Dead all the time!

Every other Sunday evening, from 9-11 PM.
The Lost Sailor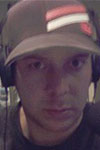 EMAIL

The Brokedown Palace Show features Live performances by the Grateful Dead.
I stumbled onto the Grateful Dead or rather " Dead Heads" while working at a midwest concert venue as a young teenager. Not long after I found myself stumbling around the country in a cloud of psychedelic lust. I will never forget those days and I am honored to have the chance to re-live them Saturday nights from 9 pm 'til midnight with our listeners. We don't listen to the Grateful Dead, we experience it individually and together as we hope for a better world.