IRL: Case/Lang/Veirs in Beaver Creek, CO!
The picture quality is so poor because it was taken on my own iPhone camera, so I think that adds a warm, fuzzy edge to this shot!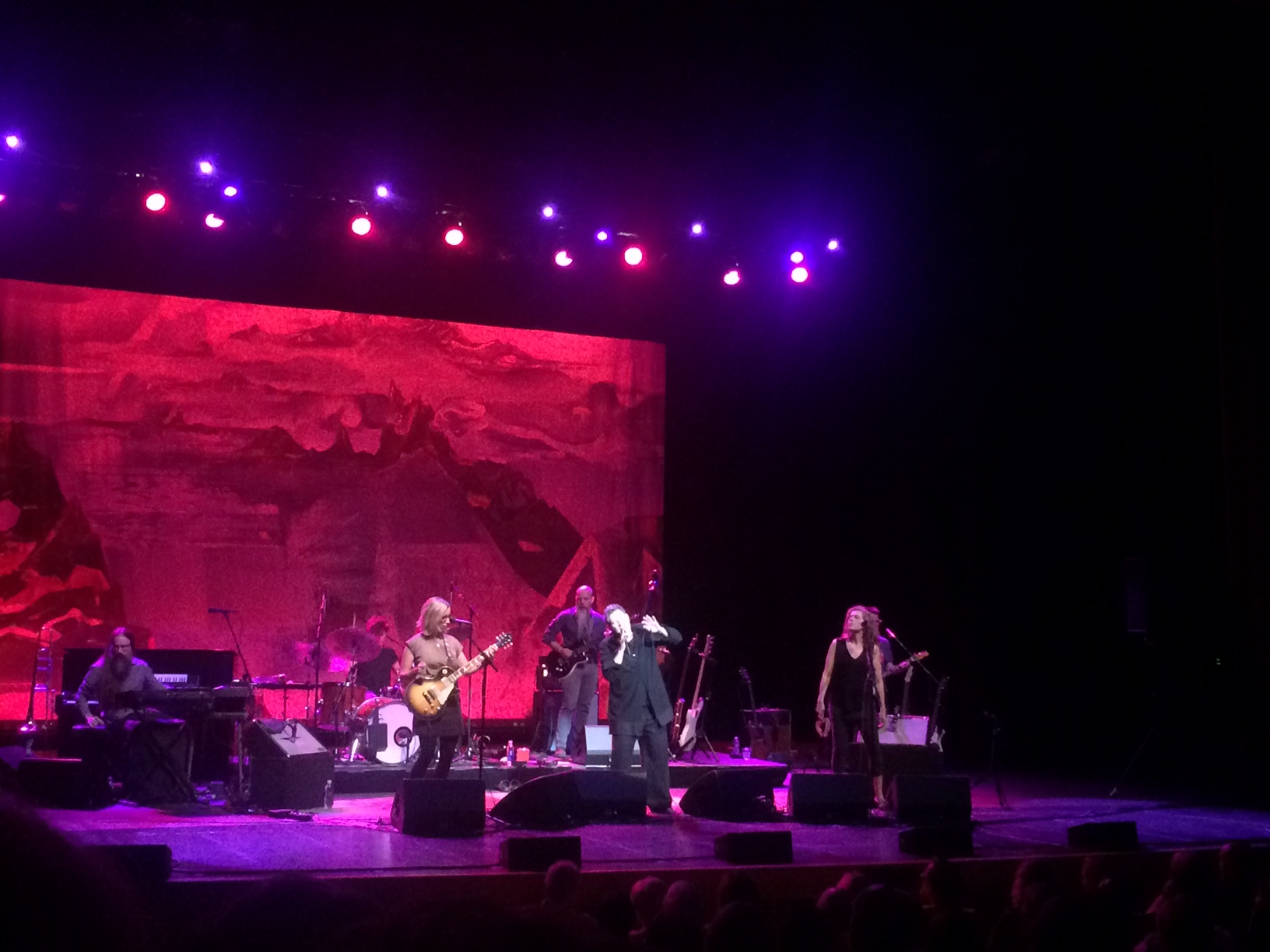 One of the best things about being in radio is the ability to know about so many up and coming groups and even get to see them live when they're nearby. But you also get to see huge names in music put out new projects, adventure into new territory, and hopefully get comped some of those higher priced tickets under the guise of "I work in radio so..."
Fortunately for me, the latter scenario occurred last week! Three days before the show, I found out Quick read more or view full article about it's existence. A fast-typed email to a promoter and a hopeful follow up the next day struck gold: I was added to the guest list to see Case/Lang/Veirs on their way to Denver in Beaver Creek!

Now really quick, let's talk Case/Lang/Veirs.
Broken down, it's three powerful ladies who decided to collaborate on something that was a little out of each of their comfort-genres.


Neko Case (left) Member of Maow, Cub, and The New Porographers, also a well established solo singer/songwriter.
k. d. lang (center) Grammy award winning singer/songwriter from Canada and occasional actress.
Laura Veirs (right) Folk singer/songwriter out of Portland, but born in Colorado Spings.

Their record label Anti- explains "Several years ago k.d. lang sent an email to Neko Case and Laura Veirs on a whim. It read simply, 'I think we should make a record together.' Though the three musicians were barely more than acquaintances 'Laura and I both responded immediately,' recalls Case. 'There was no question.'"

So switch back to July 9, 2016.
I'm driving slightly above the speed limit, less than 12 hours ago finding out I was cleared to see this group just a mere two hour jaunt from Grand Junction, which is far, far better than SLC or Denver, and I reach the Vilar Performing Arts Center, a high class 535 seat opera-house style venue in the center of the Beaver Creek Resort.
Not saying I didn't look nice, but I would say I was a little on the under-dressed side of things upon arriving. A beautiful building, a sprawling resort, and a parking garage - these are all things I am not accustomed to, but I am in awe as I wander towards my seat.
Loch Lomond, an indie band out of Portland, Oregon opens the show with big harmonies and tinkling bells, then the main act takes the stage. The small, intimate stage. And immediately a glorious, harmonic experience begins with "Atomic Number" and only gets better from there. Throughout the show each of the women laid down a few of their solo careers, but they played their debut album together in it's entirety much to (probably) everyone's excitement. Not only that, they played an encore.
Wait. No. Two encores.
Wait. Wait. Three encores?
Two at least.
It's hard to say. I got lost in the experience for a lot of reasons.
Over the course of this show, which mostly had an audience of 60+ aged people, morph from solemn and attentive to standing, dancing, and even one woman jumping on stage to kiss k.d. lang on the lips. She told us on the microphone she drove all the way from Durango to see lang, and had to "make this one count" before she planted her lips on lang's.
Along with these experiences, there was also lang's amazing, soulful vocals, Neko Case's ridiculous banter, and Laura Veir's sweet words and occasional acoustic-guitar-shred-session.

So basically what I'm saying is check out the debut album case/lang/veirs - case/lang/veirs, and if you get a chance to see this trio live, I'd highly recommend going.
It is bound to be an experience.
Read Less