Harbor and Home December 1st in the Radio Room
"Harbor and Home's latest album, Dark Days, traces the edges of Americana before settling in a pool of calming guitars and lyrics. It's deeply lovely: a frosty sunrise of an album that signals happiness, holism, and mystery for fans of the Avett Brothers and Frank Turner. Youa Vang" – City Pages
Harbor and Home is an alternative rock band from Minneapolis, MN. Their sound embodies modern roots Americana with Classic Rock n' Roll. Following the release of the first album "Dark Days" in 2014. The band toured across the U.S. sharing the stage with such acts as Jeremy Messersmith, Eric Hutchinson, Mark Chesnutt, Flor from Indian Lakes and Austin Plaine. They recently released their sophomore album "Fighter" in May 2017 after working with producer and engineer Christopher Furst at Studio 65 in Ham Lake, MN. Tickets are $12 in advance and $15 at the door. Show starts at 7:30 doors open at 7. Tickets avaiable
here
KAFM Film Series-From Here To Eternity Dec. 5th
At an Army barracks in Hawaii in the days preceding the attack on Pearl Harbor, lone-wolf soldier and boxing champion "Prew" Prewitt (Montgomery Clift) refuses to box, preferring to play the bugle instead. Hard-hearted Capt. Holmes (Philip Ober) subjects Prew to a grueling series of punishments while, unknown to Holmes, the gruff but fair Sgt. Warden (Burt Lancaster) engages in a clandestine affair with the captain's mistreated wife (Deborah Kerr). This 1953 drama film directed by Fred Zinnemann and based on the novel of the same name by James Jones, The picture stars Burt Lancaster, Montgomery Clift, and Frank Sinatra. Doors open at 6:30 tickets are $5. click
here
to purchase tickets online.
The Radio Room Players Present A Christmas Carol Dec. 8th
The Radio Room Players offer up a Holiday Classic this December with a Radio Theater performance of the Charles Dickens classic A Christmas Carol. Join us for the live performance in the KAFM Radio room on 1310 Ute Ave. Doors open at 6:30. Tickets are $7. This is a family friendly event and we are collecting donations for Community Food Bank. Purchase tickets
here
Stray Grass in the Radio Room! December 16th
Stray Grass is our own home-grown local bluegrass. The band members are locals that live, work & play in the Western Slope of the Grand Valley. Hiking, camping, fly fishing, skiing, mountain biking, whitewater rafting & off-roading are just a few of the outdoor activities they enjoy & the wonderful things the Grand Valley has to offer. Stray Grass specializes in a high-energy interpretation of acoustic music. Although played on traditional instruments (most of the time), the musical stylings of Stray Grass are anything but traditional!! Show starts at 7:30 and doors open at 7. Tickets are $15 in advance and $18 at the door available
here
KAFM Thanks all of you for showing your support of Community Radio!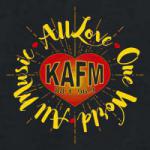 Thanks so much to all of you who have come out to support this Community Asset. We wouldn't be able to acheive our goal during the fund drive without you. We had an unprecidented response to our new member challenge by the GILL Foundation and we have over 40 new members that joined KAFM this drive.
We had some great music with live in studio visits by Gerry Goodman, Trevor Hall, Clyde and The Milltailers and Bobby Walker showing their support of what we do. We had great meals provided by awesome restaurants in the area that kept us going all week long. Thanks to Cafe Sol, Mihaela's Bakery, Lois's Place, Il Bistro Italiano, The Hot Tomato, Palisade Brewery, 7th Street Deli, Rockslide Brewery, Tequila's Restaurant, Baron's, Diorio's Pizza, Slice of Life Bakery, Main Street Bagels, Namaste Nepal, Blue Moon Bar and Grill, Rib City Grill, Which Wich, Applebee's, Peach Street Distillers, and Wine Country Inn. Thanks to our tireless volunteers who manned the phones, kept the organization going and brought us the phenomenal programming that you, the Community, enjoyed thru the week. Everyone combined made this entire week the great success that we are basking under. THANK YOU!!
Readers Radio survey-Help choose the topic for each show!
Help decide what books will be the topic for upcoming Reader's Radio shows. click on the picture and take the survey
Your Public Service Partner
KAFM is here for the community, working together with local non-profits to fulfill their missions to educate and improve the quality of life for everyone in the Grand Valley. If your non-profit organization has a message to share with our audience, please submit a PSA Request using our
contact form
, via fax at
(970) 241-0995
, or stop by our offices during business hours (Monday - Friday, 9am - 4pm).