Front Country February 28th SOLD OUT!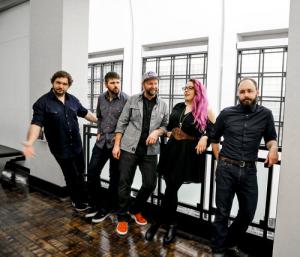 This West Coast outfit was just a group of friends playing a monthly gig until 2012 and 2013 when Front Country gathered around a single microphone at the RockyGrass and Telluride festivals, and won first prize in those prestigious band contests that once launched the careers of the Dixie Chicks, Greensky Bluegrass and the Steep Canyon Rangers. The contest wins bolstered their confidence in their unique mix of original songwriting, vocal harmonies and instrumental virtuosity, steeling their resolve to take a leap of faith and become a full time touring band.
Check out their article in November 2017 issue of Rolling Stone!
Their latest Album "Other Love Songs" is Front Country's first record relying on lead singer Melody Walker's songwriting, first and foremost. With 8 of the 12 tracks penned by Walker, and the two instrumentals composed by mandolinist Adam Roszkiewicz, it is their most original body of work yet. Round out the intensely creative band arrangement style of guitarist Jacob Groopman, bassist Jeremy Darrow and five-string violinist Leif Karlstrom, and the synergy is electric. All together, the majority of the songs are quite emotional in nature and tend toward relationship themes, sometimes with a twist, hence the title Other Love Songs. Tickets are $18 in advance and $20 at the door and can be purchased
here
Mildred Pierce March 6th in The Radio Room
Joan Crawford, in her most famous role, plays the title character in this Film about a single mother who struggles to support her daughters, the spoiled social climber Veda played by Ann Blyth and tomboy Kay. A movie that moves between being film noir filled with greed, jealousy, spite and murder to a melodrama showing a mothers love for her children, her sacrifice, and failed romance becomes an opportunity for Joan Crawford to embody this iconic character. This Film Classic, nominated for 6 Academy Awards, is remembered as one of the most famous "Womens" Pictures of the 40's and became the pinnacle of Joan Crawford's career. Directed by Michael Curtiz and also starring Ann Blyth, Jack Carson, Eve Arden and Butterfly McQueen this film's reputation hasn't waned over the years. Join us March 6th at 7pm in the Radio Room and see why Joan Crawford became a Super star. Tickets are $5 and can be purchased
here
.
Two Tracks at the Radio Room on March 11th
Two Tracks features Julie Szewc on vocals and acoustic guitar, David Huebner on cello and electric guitar, Fred Serna on drums and percussion, and Aaron Ashear on bass. From rock to country, bluegrass to folk, the music helps define the sound of superbly crafted, fully assertive Americana. Their harmony-rich songs often add cello to a solid groove, creating a unique ambiance that's all their own. Throw in a journeyman's attitude and a penchant for affecting storytelling, and here again, The Two Tracks create a sound that typifies a style birthed in the heartland, with all the sentiment and sensitivity that does justice to that timeless sound.
Tickets
are $15 in advance, $18 at the door
Rabbit Holes: Converstations With Writers, Artists, Musicians and Others! March 20th
Western Colorado Writers Forum Hosts Conversations with Writers, Artists, Musicians and Other Eccentrics in The KAFM Radio Room. The first event on March 20th welcomes Former Poet Laureate of Colorado- David Mason. WCWF's Wendy Videlock will host an indepth conversation with Mason about poetry and reflections on the power of language, the role of the artist, the importance of place, and living the relentlessly creative life! Tickets: $5 for KAFM or WCWF members,$10 non-members For tickets call KAFM at 241-8801 or go online
here
Doors open 6:30 show starts at 7pm.
Moors & McCumber in the Radio Room March 21st
" These guys should be playing every major Festival in the country. They bring it all to the stage and deliver it in a big way."
- Lloyd Maines.
Grammy award winning Producer and Multi-instrumentalist.
James Moors and Kort McCumber are an acoustic duo specializing in Americana, folk, melody, and stories. While both men are successful solo songwriters, Moors being an official recipient of the McKnight Foundation Emerging Artist Grant and McCumber having won the Flat Rock Festival Songwriting Competition, when they come together their sound becomes larger than life.
Tickets
are $18 in advance, $20 at the door
Garrett Lebeau March 30th in the Radio Room
Garrett Lebeau is a member of the Shoshone tribe and was born and raised on The Wind River Reservation near Lander, Wyoming. Raised in an apocalyptic religious cult that kept members shunning the outside world, Garrett led a life sequestered from other people. This experience, along with living in a very remote and isolated environment, has influenced his music. Garrett is a self-taught musician who began learning to play the guitar as an adult and admits the process of his learning to play was a slow one. He is an accomplished songwriter, and his vocals has been compared to Boz Scaggs, Al Green, and Van Morrison, accompanied by a style of guitar playing that is uniquely his own. Tickets are $18 in advance and $20 at the door and can be purchased
here
Your Public Service Partner
KAFM is here for the community, working together with local non-profits to fulfill their missions to educate and improve the quality of life for everyone in the Grand Valley. If your non-profit organization has a message to share with our audience, please submit a PSA Request using our
contact form
, via fax at
(970) 241-0995
, or stop by our offices during business hours (Monday - Friday, 9am - 4pm).