Dawn and Hawkes July 26th in the Radio Room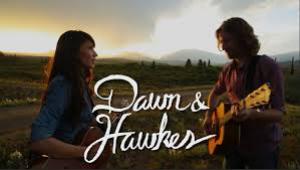 Drawing inspiration from their time spent on the road in North America and South Australia while navigating a shared journey through mortality, grief, the after-life and compassion for different perspectives, Miranda Dawn and Chris Hawkes offer what Performer Magazine deems as "songs of introspective bliss that genuinely helps the listener feel the spirit of life." Their sound is highly intimate. The Houston Press review states Dawn & Hawkes are "outstanding musicians individually, and they are absolutely magical together. Their harmonies and chemistry speak for themselves, and audiences recognize from the first note that they are something very special." Their initial duo effort, Golden Heart, climbed to No. 25 in Billboard's Folk chart and landed at No. 2 in iTunes singer-songwriter albums. They have performed with Alison Krauss & Dan Tyminsky, Patty Griffin, Old 97s, Robert Earl Keen, and many others. Their second album titled The Other Side chronicles the life paths they've traveled and will be released this summer. Tickets are $15 in advance and $20 at the door. To purchase tickets call 970-241-8801 or
online

Karaoke August 1st in the Radio Room!
Get up over the hump
Wednesday, August 1st from 7pm-9pm
and have some fun with the KAFM
monthly Karaoke Night.
Talented locals will entertain the audience using our exceptional sound system and perform under the lights on stage. Come out for an evening of fun, talent and potential laughs.
Event is free to attend, with host donations welcome. Affordable Colorado beer and wine available to purchase. Doors open at 6:30pm.

Gerry Spehar returns to the Valley August 2nd!
Gerry Spehar is a folk country troubadour from Colorado and a man on a mission. Hot on the heels of last year's critically acclaimed "I Hold Gravity" the singer songwriter guitar picker is back with a full blown old school protest album. Our new president really got Gerry's goat, but unlike his fellow performers, he's done something very specific about the situation. Think Woody Guthrie backed by psychedelic guitars and funky New Orleans horns. I See Hawks In L.A., prog instrumentalists Double Naught Spy Car, madman Tommy Jordan and L.A. legends John David, Brantley Kearns, Gabe Witcher and Rick Shea are the studio band. Doors open at 7pm show starts at 7:30. Tickets are $15 in advance and $20 at the door. Tickets available by calling 970-241-8801 or
online
A Night of Home Grown Chautauqua August 3rd
Join Abigail Adams, Roxie the Riveter, Nellie Bly, Colorado's Famous Rattlesnake Kate, and more, all played by members of the Grand Valley's Living History Players for A Night of Homegrown Chautauqua at KAFM Radio Room. Event is August 3rd from 6:30-8p Doors open at 6pm. $5 suggested donation
KAFM's annual Radio Daze celebration August 4th
Come out to Edgewater Brewery on Saturday, August 4 from 1pm-9pm to enjoy 8 hours of live music performed by some of Grand Valley's most popular bands and musicians! Join KAFM supporters, programmers, volunteers and staff for the annual Radio Daze event showcasing local talent. This year's performers include Zac Grant Trio, Tight Thump, Thomasina Russell & Friends, Jack & Jill & Family, Mashed Potatoes, Union of None and The Emerson Project. Attendees will enjoy music from many genres, including acoustic, rock, blues, bluegrass and more! Kannah Creek will donate 100% of proceeds from their specially brewed 300 Watt Ale in support of KAFM Community Radio. This is a free event. KAFM will be holding a 50/50 raffle with the chance to win up to $999. Winner need not be present to win.
Cary Morin August 16th in the Radio Room
Roots-based singer and fingerstyle guitarist Cary Morin brings together the great musical traditions of America and beyond like no other artist. His lyrics range from blues to folk, and shines a light on his Native American Heritage and small town life in America. The son of an Air Force officer, Morin was born in Millings, Montana, and spent the bulk of his youth in Great Falls before moving to Northern Colorado. He is a Crow tribal member, and has written in support of the efforts of the Standing Rock Sioux Tribe. Morin has produced or performed on over 20 recordings. He has toured across the US, as well as Japan, France, Germany, Italy, Switzerland, Spain, Belgium, Denmark, Estonia, Norway, Ireland, Sweden, and the UK.
Tickets
are $20 in advance, $25 at the door.
Your Public Service Partner
KAFM is here for the community, working together with local non-profits to fulfill their missions to educate and improve the quality of life for everyone in the Grand Valley. If your non-profit organization has a message to share with our audience, please submit a PSA Request using our
contact form
, via fax at
(970) 241-0995
, or stop by our offices during business hours (Monday - Friday, 9am - 4pm).