Art Fest Downtown - October 7-9, 2016
ART was the theme of the weekend in Downtown GJ. On every corner, in every business, art was happening. For the first time, and hopefully for years to follow, The Art Fest Downtown teamed up with First Friday and rolled right through the weekend. Friday night, the Art Center was packed. Generators outside were cranking power to food trucks allowing art gawkers to fuel up and take a break...there was a lot to see! Animals were the subject in several pieces of "Art Unleashed" and the proceeds went directly to the Roice Hurst Humane Society. Don't just think cute puppy portraits, which I loved and several had sold tags, but one of my favorites; the toothy donkey plopped in a field of bright wildflowers. His expression is of pure happiness, of goofiness with a wide grin. I must have walked past him 5 times and laughed with each sighting. Also sold. Intricate gold fish on canvas, mesmerizing kitten on scratchboard, and the next gallery over was all pottery. Then I walked outside to the patio and saw two large sheets, hung with lights glowing from behind bringing the images to life. Black ink created a message of struggle over power, the forced change of landscapes and people, culture and beliefs. Heavy themes on a white sheet. I was deep in thought until I saw the table of cupcakes by Be Sweet.
Saturday brought amazing weather; a perfect fall day. Every store downtown was open and there were live demonstrations of pottery at the Avalon, sculpture at Grand Valley Books, watercoloring at Colorado Canyons Gallery. New AOTC (Art On The Corner) sculptures were going up, and even the hair salon had an open gallery. The theme was ART and it was everywhere. I spent about 4 hours downtown and did not get to it all (there were even artists painting on the Riverfront Trail). If you missed it, you can still go downtown and see the new sculptures (like the metal TV with motion sensor lighting) but if you missed it let's hope this annual fest continues! Not just a weekend celebration of talented and diverse artists who dedicate a huge portion, if not all, of their lives to their work, but who also encourage others to tap into their own creative bones. If you ever thought about painting or sketching, photography, pottery, stained glass and metal work, or you-name-it, there are classes here in Grand Junction to support your interest. The Art Center is a great place to start, but also many of the galleries downtown have classes, and there a number of clubs (writing, music, photography, poetry). Write to us if you are curious and want to learn more!

Article & photos by Carrie St. Clair
Moors & McCumber - Pairs Well with Radio Room
A sunset: The grand finale of each day. The sky sprayed in bright tones, scorched clouds to flames.
A rich piece of dark chocolate: A square at a time. Bitter and soothing.
These things stand alone. Some things, however, are simply better together. Popcorn and a movie. A blazing hot day and a cool body of water - jump in, sink below the line and float. Cheese with bread or wine. Or what about Ukulele and the harmonica, or accordion and guitar, or mandolin, banjo, harmonica and ukulele. In other words, I'm talking about Moors and McCumber.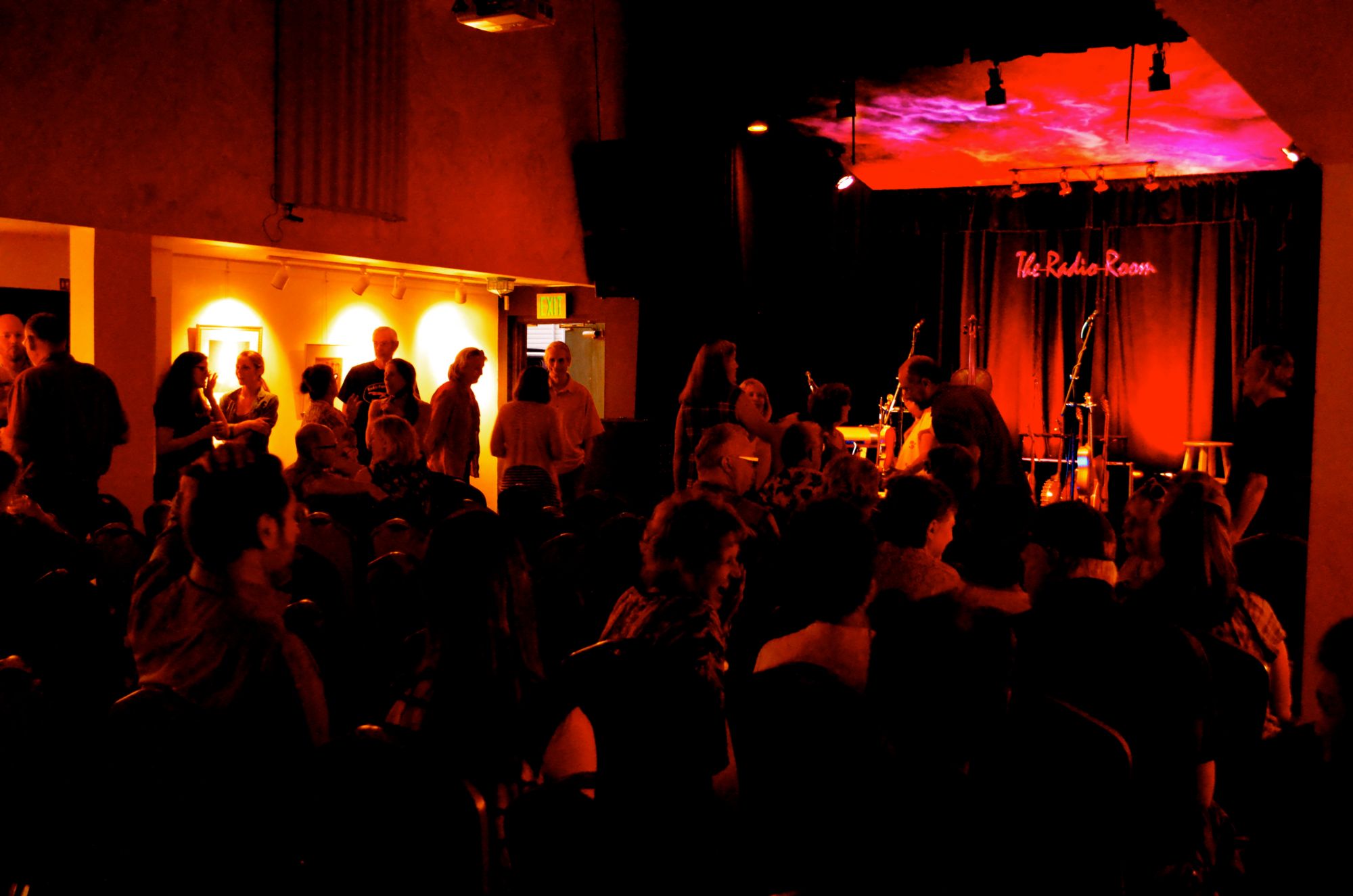 James Moors and Kort McCumber started solo and worked their way, separately, from stage to stage until meeting at Rocky Mountain Folk Festival Song School in 2005. Their musical talents clicked and the result is a stage packed with an unusual lineup of instruments; the bouzouki, harmonica, piano, cello, violin, mandolin, ukulele...and words blending between two singers and their connection to each of us.
"Years ago, I was organizing a music festival and one of the groups hadn't shown up. I was getting really stressed. Five minutes before they were supposed to go on, these guys drove up, talking and laughing, and they didn't look the least bit worried. One guy took out his guitar and the other took out his mandolin, and they just went up on stage and started playing. No sound check or anything. It was like the conversation they'd been having was continuing on stage. That is what it's like for us now. When we step on stage, the performance is an extension of who we are and what we've been talking about." James Moors
To listen and watch Moors and McCumber perform while changing out instruments every couple of songs had us wondering, what's coming next? And then the cello would appear. Their songs, their melody, their words, a perfect pair. The only thing better? The venue. The Radio Room on the main level of KAFM is a small space that maxes out at 80 people, which leads to an intimate show. The musicians didn't just stand on stage and give the ol' "thanks for coming out" routine. Nope, they hopped off stage, walking right into the crowd and wanted to find out who we were -- the fans behind the cheers.
This was my very first Radio Room experience. I have to admit I thought there was more Radio going on in this building than live, amazing, music, but it turns out it has quite a bit of both. Another delightful surprise in my discovery of Grand Junction. Have I mentioned I love this place?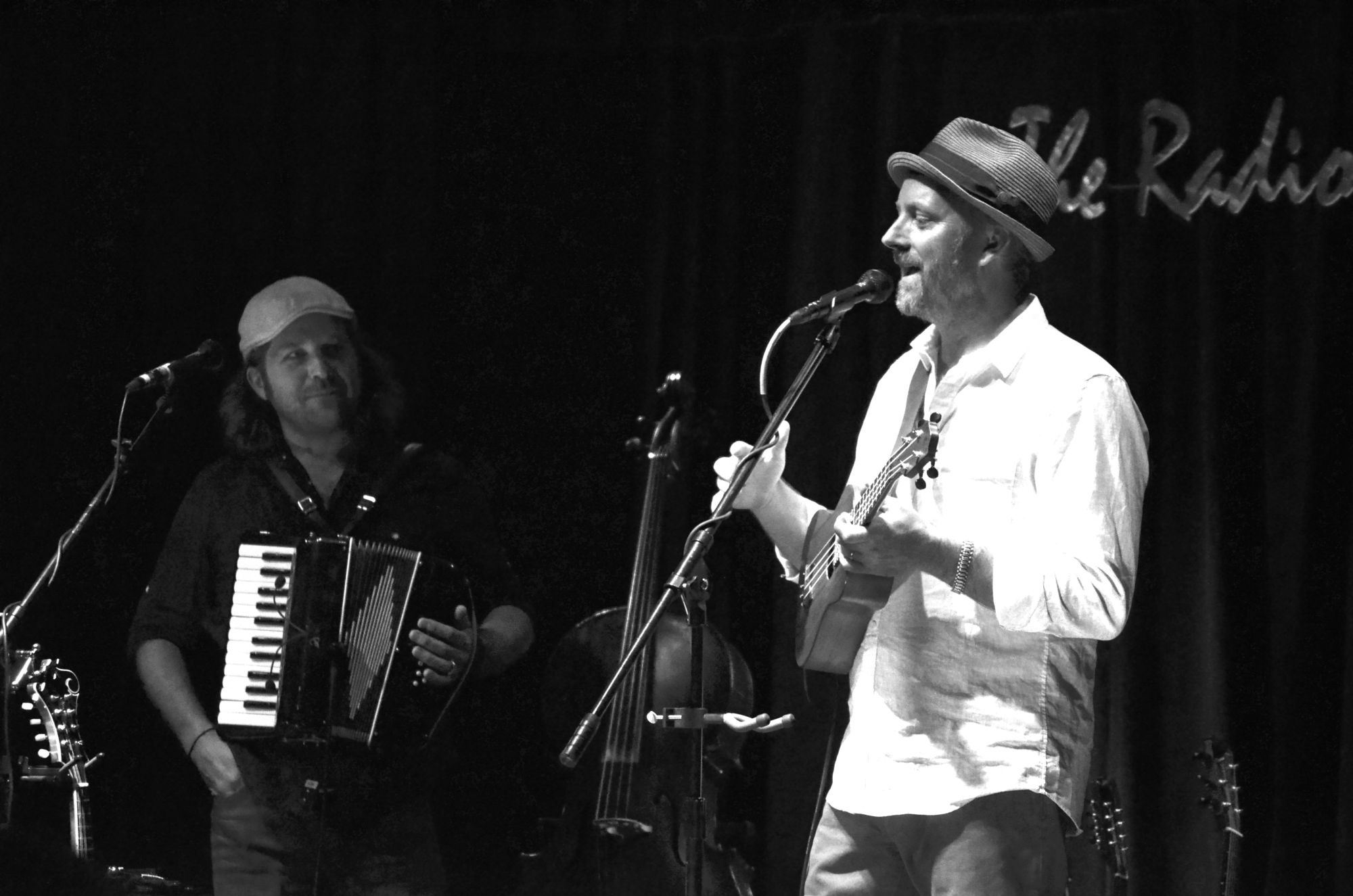 Article & photos by Carrie St. Clair
Buying Local in the Grand Valley - Why It Matters & Why We Care
I'm on a mission this year. Not driving-through-town-with-a-megaphone-strapped-to-the-hood type of mission, but quietly, in-my-little-speck-of-the-world on a mission.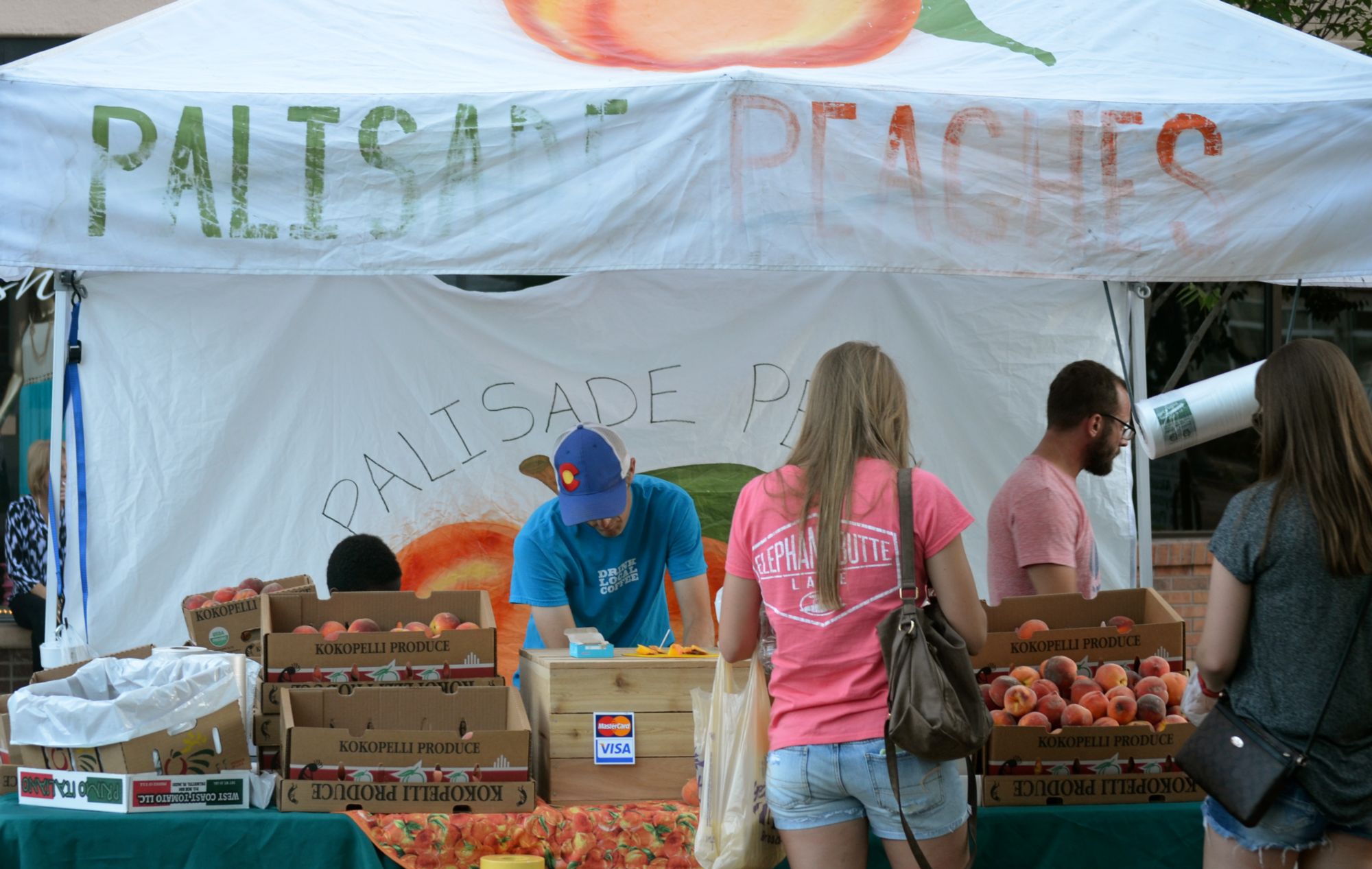 Why Buy Local?
A snapshot of a sandwich board displayed on a sidewalk, probably in front of a small business, has been floating around the social media waves. (Side note: Some of the witty words on the signs around here! Main Street Bagels usually has something to make you chuckle). The chalked writing told a story about buying local. "If each of us spent $100 a year more on local businesses instead of chain stores, it would put an extra $3 million a year into our economy, not only that but it would create thousands more jobs every year."
But, isn't a chain local? Was my first thought, followed by, How can this be true? I needed to find the facts behind the numbers. Buy Local is a familiar phrase, like shouting to your spouse when you come home from work, "Honey, I'm home!" You do that, right? We've all heard it, we've all seen the slogan plastered on bumper stickers and t-shirts and hashtags, but what is the true impact? All of this in the middle of the Farmers Market season in Grand Junction, Palisade and Fruita. It could not have come at a better time.
The True Impact
The easy research is always Google. A couple clicks in the search box "Why Buy Local" produces about 310 million results. On every site I could find, in every article I read, the numbers proved the story. Study after study found that Local Independent Businesses make a huge impact on our communities. Here are the top 5:
1. Greater Employment per Dollar of Revenue Small businesses are the engine of job creation. Small local businesses are the largest employers nationally and create two out of every three new jobs. Small businesses employ more than 52 percent of the nation's employees...adding more than 5.1 million new jobs to our economy since 2003. Buying locally means that employment levels are more likely to be stable, and may even create more opportunities for local residents to work in the community. (Michigan State University's Center for Community and Economic Development published this study in 2010)
2. Local Ownership Keeps Profits in the Community
A greater percentage of every dollar spent stays in the community. This is where the sandwich board comes into play. The re-circulating of local money. Several cities have been tested and the results explain an overwhelming percentage of money spent in Independent Local Businesses stay in the community to support other local businesses. For example: A local restaurant needs produce and buys from a local farmer. They also need marketing and advertising which they hire from local businesses. National Chains, on the other hand, source these services from other places outside of the community. The national average looks like this: 48% of money spent in Independent Small Businesses is driven back into the community vs 14% with National Chain Stores. (I found these averages change slightly depending on the study and area of concentration, however, each one shows a hefty percentage on the Independent Small Business side vs National Chains).
3. Greater Likelihood to use Locally Made Products
Reducing the amount of materials and products that are bought from national retail chains helps reduce your ecological footprint. Locally owned businesses can make more local purchases requiring less transportation…(Sustainable Connections, 2014)
4. Greater Share of Revenue Used for Charitable Giving Non-profit organizations receive on average 250% more support from smaller business owners than they do from large businesses. Small businesses donate more than twice as much per sales dollar to local non-profits, events, and teams compared to big businesses. (American Independent Business Alliance)
5. A Unique Community
When people go on vacation they generally seek out destinations that offer them the sense of being someplace, not just anyplace. ~ Richard Moe, President, National Historic Preservation Trust
The Grand Valley has unique going on! Each town has its own personality and feel. I moved to this area because of the landscapes and the outdoor playground, but also the Main Streets. Go stand in the middle of downtown Grand Junction, Fruita or Palisade. Look around you, take in the store fronts, the people, the backdrop. There's nowhere else like it.
There are several benefits beyond this list: customer service (I have to say customer service in this area is honestly some of the best I have encountered. From Home Depot to Cafe Sol to the Post Office - even during Christmas - people are always kind and helpful), investing in our community, product diversity, supporting entrepreneurship...
The impacts of Buy Local are lost in the simplicity of the slogan. In an area so hungry for job market and economic growth, I am floored at how simple it is for each of us to take ownership in creating jobs and boosting the economy. How spending just a few extra dollars on products found in independent businesses instead of national chains has benefits that are game changers. I had no idea. I had no idea that when I decided to walk downtown to the Farmers Market on Thursday evening to grab a sack of fuzzy peaches, a few plump cherries and a dozen eggs in mismatched colors, I was supporting local farmers. Those farmers who in turn support this local community, who spend time and money here, raise their families and healthy-cage-free-range-free hens here. I'm working on reorganizing my mindset. Instead of heading to the grocery store to pick up produce, I started to factor in the Farmers Markets during the week. Grand Junction on Thursday, Fruita on Saturday and Palisade on Sunday. I get my veggies, my fruit, my eggs, and of course a few snacks not on my list (popsicles infused with lavender...little cupcakes perfectly frosted). I found it was also free entertainment! Main Street is closed off to all traffic except pedestrians, local bands are set up on 3 separate stages, fresh picked veggies and fruit are stacked up in colorful rows, kids in awe while their faces are transformed into superheroes or butterflies under the paintbrushes of local artists, and then there's the balloon magician creating crazy hats and flower bouquets the size of small children. This event is the Buy Local slogan in action. At every layer, at every level, this is Community at its very best. Showing up and purchasing a few pieces of fruit is a small act of support with ripples that flow deep into our communities and into the future of this unique--mountains to high desert, vineyards to orchards, mountain bikes to ATVs, ranches to farms, juniper to aspen--kind of place.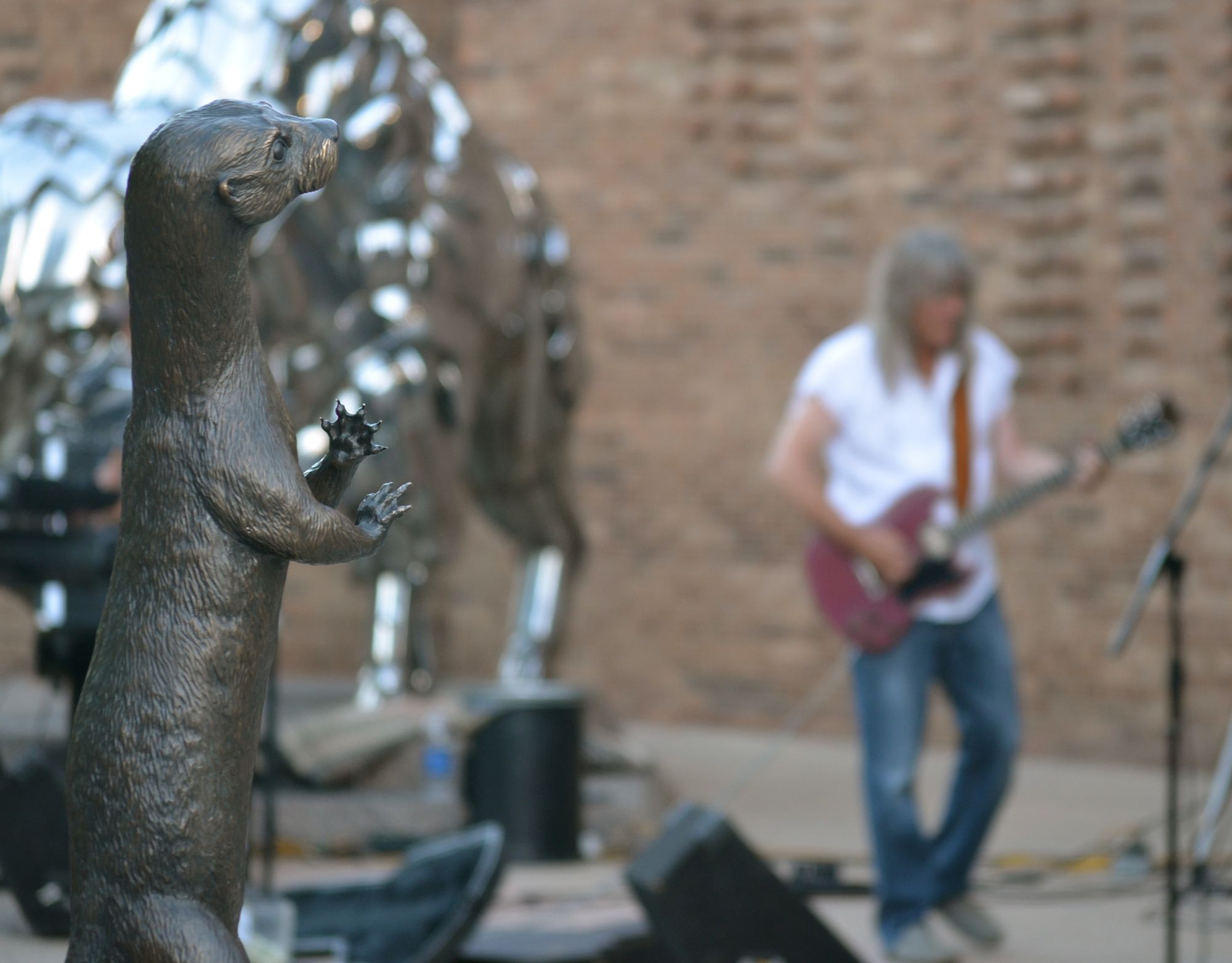 Article & photos by Carrie St. Clair
I Heard it Through the Grapevine! June 25, 2016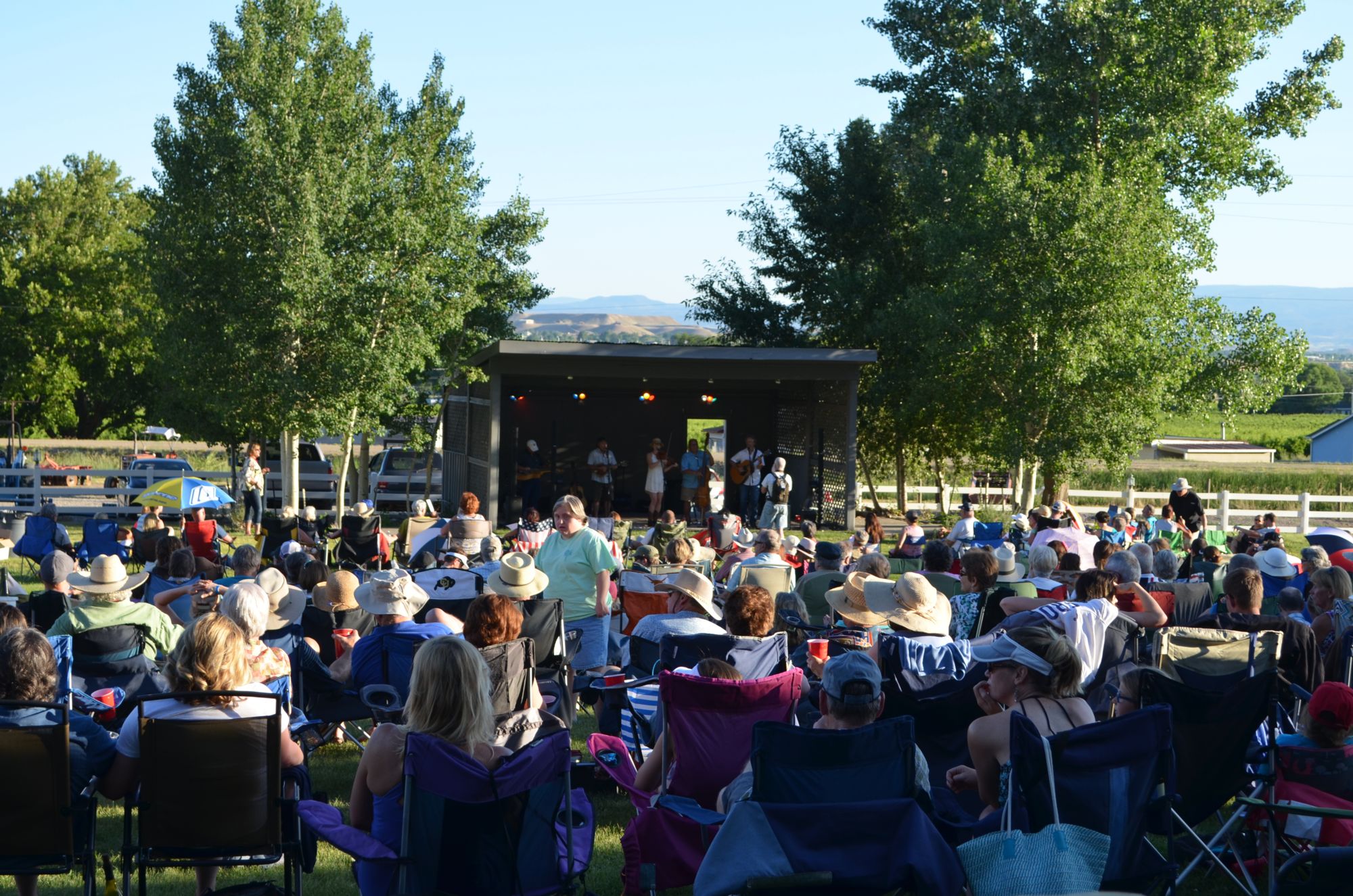 Wondering how to spend a warm summer night in the Grand Valley? Toss together a picnic, grab a camp chair, round up some friends, or come alone (because you won't be when you get here), plop down in a shady spot until the sun dips behind the Bookcliffs and the band starts to play.
Surrounded by grapevines and music with local wine in your hand, and tonight it's Stray Grass on the stage: This is Hear It Through the Grapevine. A series of events promoting music and wine and something to feel good about. Each event benefits a group in the community. Last Saturday night a percentage of the proceeds went to the Roice-Hurst Humane Society. Set up under a tent handing out handkerchiefs for the furry ones and stickers, the Roice-Hurst Humane Society is Promoting bonds between pets and their people. We envision a unified Western Slope society that values the life of every companion animal; where no healthy, treatable, and adoptable dog or cat is euthanized; and where every pet finds a safe, loving and permanent home. (If you are interested in finding your new-best-4-legged friend, or would like to volunteer visit their website)
Stray Grass, a local band, swirls bluegrass hints with their own unique chords. "Don't be afraid to come on down here and dance!" lead singer, Alycia Vince, calls out. She starts to laugh because only the kids are brave enough to honor her request. But a few songs in and the music (and maybe a little help from the wine) gets people out of their chairs to join in.
What are you doing this Saturday night? If sip'n wine and stomp'n in the grass under the evening sky while supporting a good cause sounds like a good idea--you might be onto something.
The next question is: what kind of music will get you down here? Rhythm and Blues? Penny Lane? Or the fiery beat of Salsa? Covering so many amazing genres, this stage brings out music as diverse as our landscapes. You can find out more
here
.
Article & photo by Carrie St. Clair
Palisade Bluegrass and Roots Festival: June 10 - 12, 2016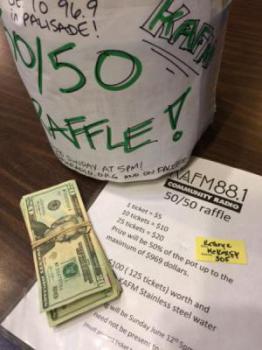 There were so many things that made this year's Palisade Bluegrass and Roots festival so important to us here at KAFM. Not only was KAFM a supporter and partner of the festival, but we're getting even closer to Palisade these days, at least we aim to! If you've been around KAFM at all these last few months you've probably heard quite a bit of chatter about our dream of broadcasting clearly in the east end of the valley. In order for this to happen, we need to install a translator in Palisade, which will rebroadcast our signal at 96.9 and help spread KAFM throughout the Grand Valley! This is quite a costly venture and we've been working very hard to find the right ways to spread the word and garner donations. Raffles always seem to be a fun way to legally gamble, so we thought we'd try it out at Palisade Bluegrass and Roots! In three days we raised $1010 that we split in a 50/50 raffle with one lucky contributor, Kathryn, and it sparked the knowledge of us in Palisade and gave us the drive to keep on going with this endeavor. As the only community station in this part of the state, we want to reach as many of our community members as possible!
Then you look at one of our volunteers, Donna, who is an active member of the arts community here in Grand Junction. She creates beautiful collages and submitted one of her pieces to Palisade Bluegrass and Roots as part of their poster contest and she won! Being a part of the communtiy on so many different levels is why KAFM is here. We're a music station first and foremost, but supporting the local arts scene is a very close second, and we're very proud to call Donna a programmer.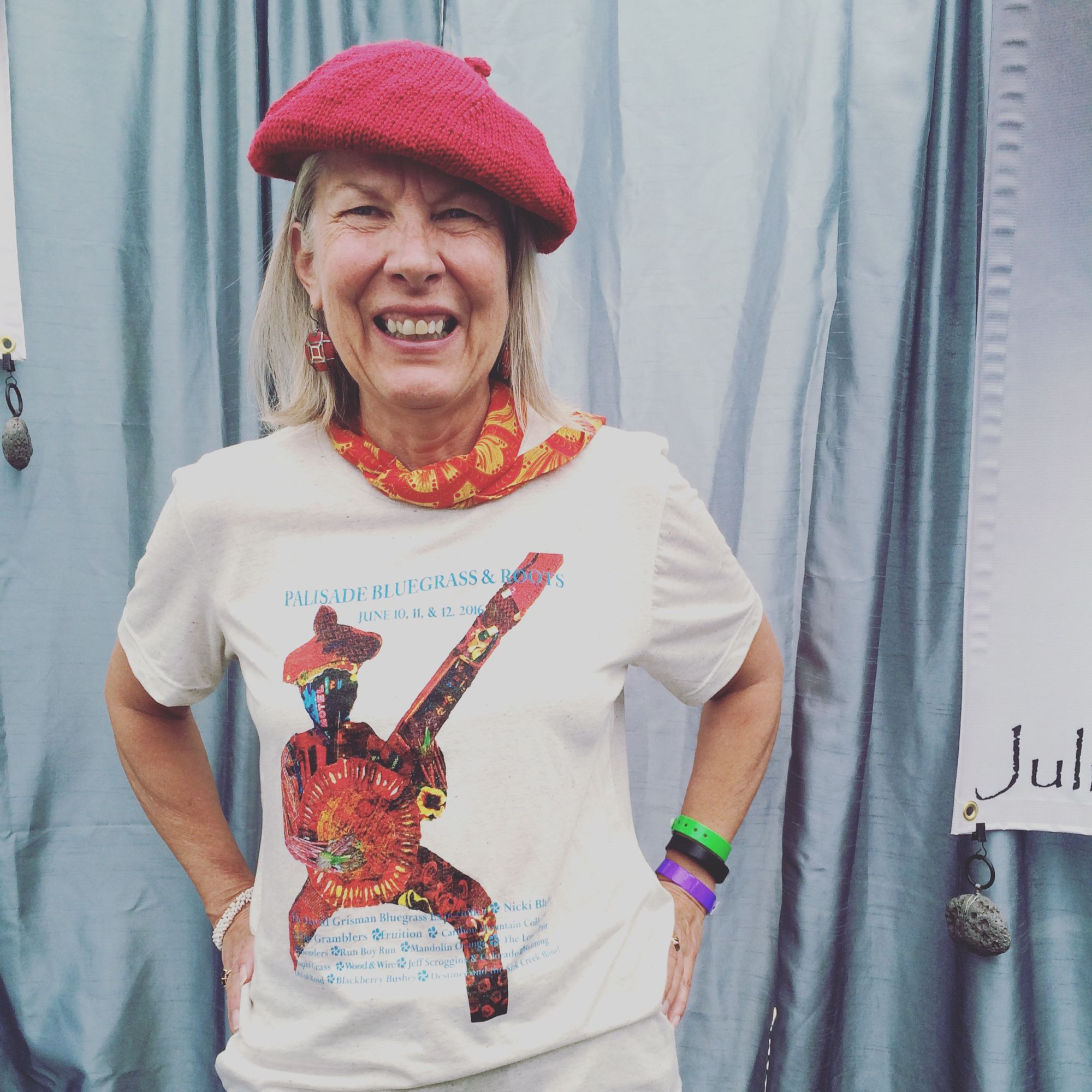 And obviously, there's some really solid bluegrass and roots that happened. As a radio station, that's really our calling, and it was so hard for us to stay in our tent when all we wanted to do was run up to the stage and dance the night away. Here's a shot of Rapidgrass tearing it up Friday night. Not to mention the other great musicians that came to our humble home to blow us away: Nicki Bluhm and the Gramblers, the David Grisman Bluegrass Experience, Fruition, and many others.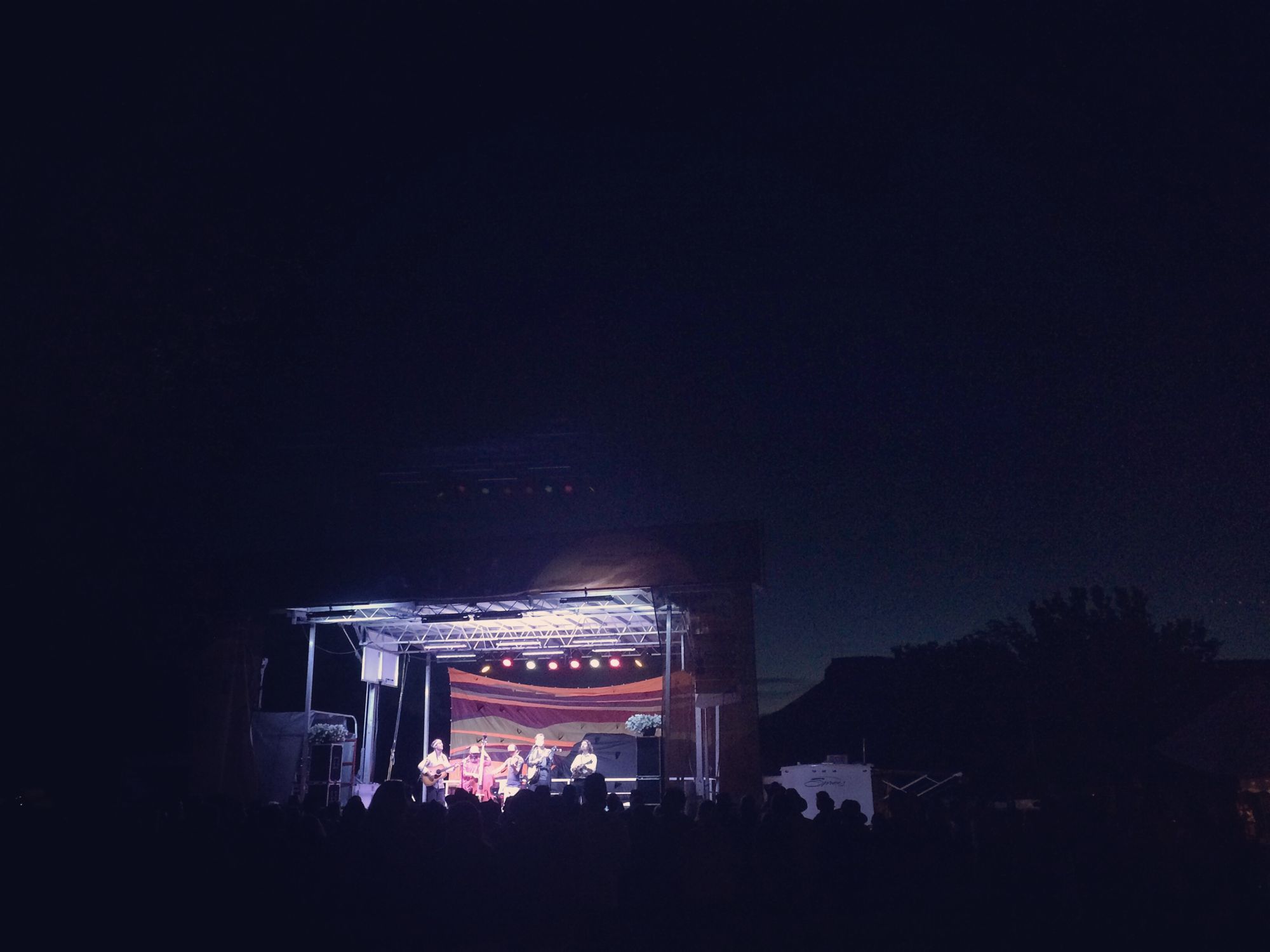 If we saw you out there or you donated to our cause, we want to say thank you! It's because of listeners and community members like you that we are here, and we're incredibly excited to move forward on this journey of broadcasting in Palisade, supporting the arts in the Grand Valley, and playing the best music around.
Article & photos by Tori Miner
The Grand Junction Off-Road and Downtown Music Festival: May 20-22, 2016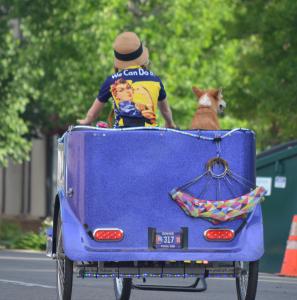 A Festival with More than Meets the Eye
It didn't hit me on Friday night when my husband and I walked downtown to get a glimpse of the Grand Junction Off-Road and Downtown Music Festival. We were in the middle of ordering dinner on Bin 707's patio when a roaring sound had everyone stop, look up and focus towards the noise. About 50 mountain bikers tore around the corner of Rood and 5th Streets. I am guessing at this number, since they seemed more like a blob of color, legs, and wheels and then gone. Everyone on the patio, including the servers, froze for the next few minutes waiting. Sure enough we could hear them coming. A beautiful synchronized pack just for a second and then gone.
It didn't hit me after dinner. Crossing through the barrier that blocked off the entire span of Main Street, a young guy at the entrance gate was not collecting cash but telling us to have a good night. In front of the main stage people started to gather; on bikes, sitting along the brick wall of tree boxes, in groups, on straw bales, in lines at the beer garden, some laughing and some cheering. Over the speakers a single violin whined, paused... and then the foursome, in one masterful movement, erupted into jam mode. Head for the Hills describe themselves as "Twang and Punch." Violin, guitar, bass and mandolin, smooth and fast, moving through the crowd. They left the stage around 10pm and then returned to cheers and hollering for them to come back. This band from Fort Collins played several more songs, thanked Grand Junction, turned back from a full and happy crowd to walk off stage for the night. It still didn't hit me.
Exploring the Festival
It didn't hit me on Saturday morning when I could hear the loud speakers announcing racers from my backyard when I let the dog out. I had to check the time wondering what events were going on so early. Later that day we found ourselves too interested not to investigate what else was going on downtown. Tents were popped up all along Main Street with a variety of outdoor goods, announcements, of course bikes and all the gear surrounding bike culture. Smoke was puffing out of a food truck and music was coming out of the alleyway, so we followed beat. Tucked back between two buildings off Main Street performing on the Best Slope Stage was Radicult, a local Grand Junction band with enough energy to bring people in and then force us to back up a few steps. Three young guys playing loud, hard, rock.
Walking back along Main there were more vendors. Eno had a tent set up with colorful little bags showing off how their hammocks pack up and then sprawl out. Subaru had a roof top tent on display with a ladder kicked out to one side. Around the corner on 6th Street a shallow pool was filled with plastic balls big enough for kids to climb inside and spin over the water. And then we heard more music from a different alleyway. This time it was the West Slope Stage and I had to cut my way through the crowd to actually see the band, The Doug Simons Band, a low slow strum with a bluesy beat. A foursome of bass guitars and drums persuading heads and feet to move in sync with the melody.
Saturday Night and the Music Continues
With a beautiful sunny day almost behind us, people started to gather back around the main stage anticipating the next act. The experience was more like a mystery tour for my husband and me - not just hearing these bands for the first time but seeing this festival unfold.
The letters SF in light bulbs were glowing on the stage, a San Francisco band finding Grand Junction for the first time - the Stone Foxes. This was a band who knew how to influence a crowd. By the end of the night we were a part of their songs, shouting the lyrics back to the singer. They pulled kids on stage who were ready for the spot light, tearing on the air guitar, throwing their hands up, waving back at us, having their moment.
Beyond Main Street
Sunday morning I was waiting in line for coffee at Roasted. A stack of paper was near my reach so I grabbed a copy and started to read. It was a special edition put out by the GJ Sentinel describing the Festival. There were two pages dedicated to the music and vendors but the rest delved into the Off-Road event. The who, how, and why of each Pro Racer. "The Grand is one of the most technically demanding race courses in the US." Brian Matter (Pro racer taken from the GJ Sentinel). I scanned the names and states they were coming from; Arizona, California, Montana and even Canada. From all over people travel to come here to race on the most technical trail in the country. My mind went to a split screen. On one side was the music, the bands, the crowds pouring into town, lazily strolling about drinking beer, eating Pablo's pizza by the slice, enjoying the downtown vibe. On the other side was what I could only imagine was going on "out there" off the main road. Serious bikers with a mental focus to ride over what I can only predict is harder than the Rustlers' Loop which is my limited, amateur experience at this point being both new to Grand Junction and Mountain Biking. It finally hit me.
On the Road, Off the Road, On the Stage
When we pulled into town just five short months ago, my husband and I were wrapping up a year long overland trip and looking for a spot to call home. We had driven over 33,000 miles, traveled across the country, twice, and to the very end of the road in Panama (it actually stops down there in the Darien Jungle). And then drove all the way back to scour the country for our spot. We rolled into Grand Junction expecting to pass through, but we never left. This little town between two rivers has revealed more layers than we could have ever imagined. Just as we ventured from our house to downtown, spent the entire weekend listening to music, we had no idea Junction attracted a pro level of bikers. But not just pro level, all levels. Where the rivers collide so does a wonderful mix of energy: Local Arts and the Outdoors. This past weekend showcased music that ran the spectrum from rock to blues, to twang and punch. It brought local bands and dudes from San Francisco. Here. Nearly 20 bands showed us their craft, Pro Bikers headed here to test their skills, and the landscapes taunted us in the distance. The Off-Road and Downtown Music Festival was a perfect display of what it means to love this town.
And we are falling for it.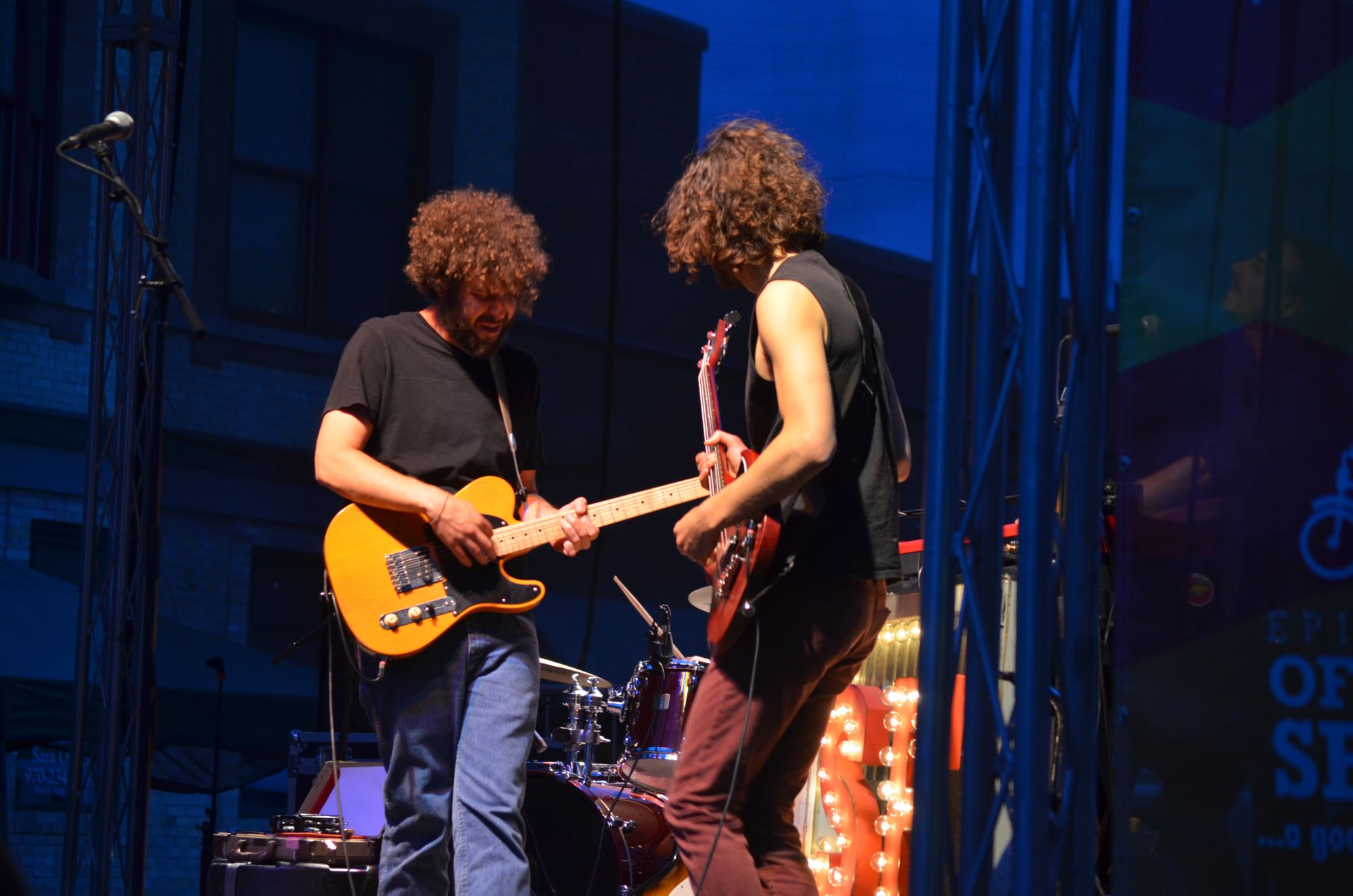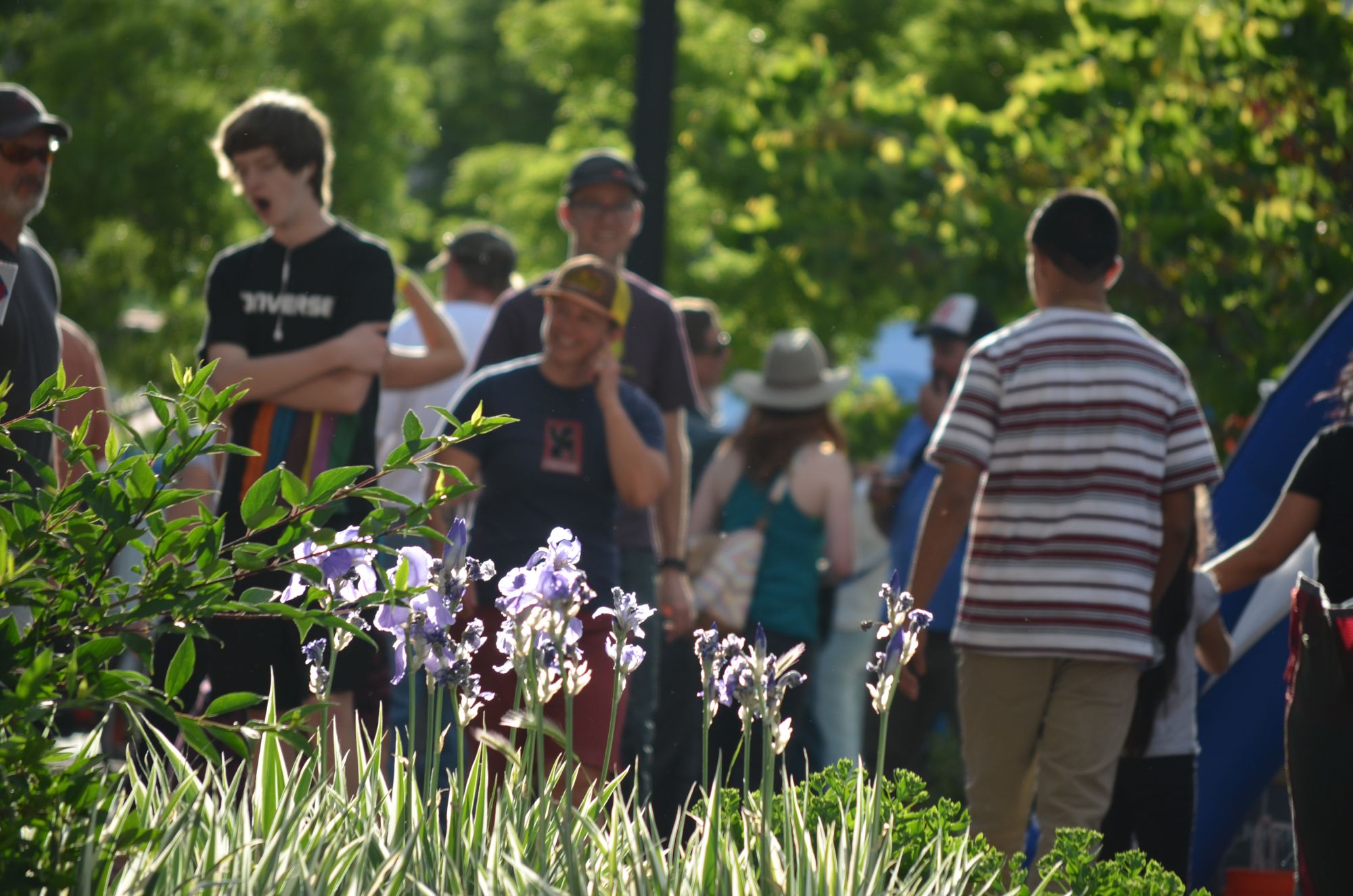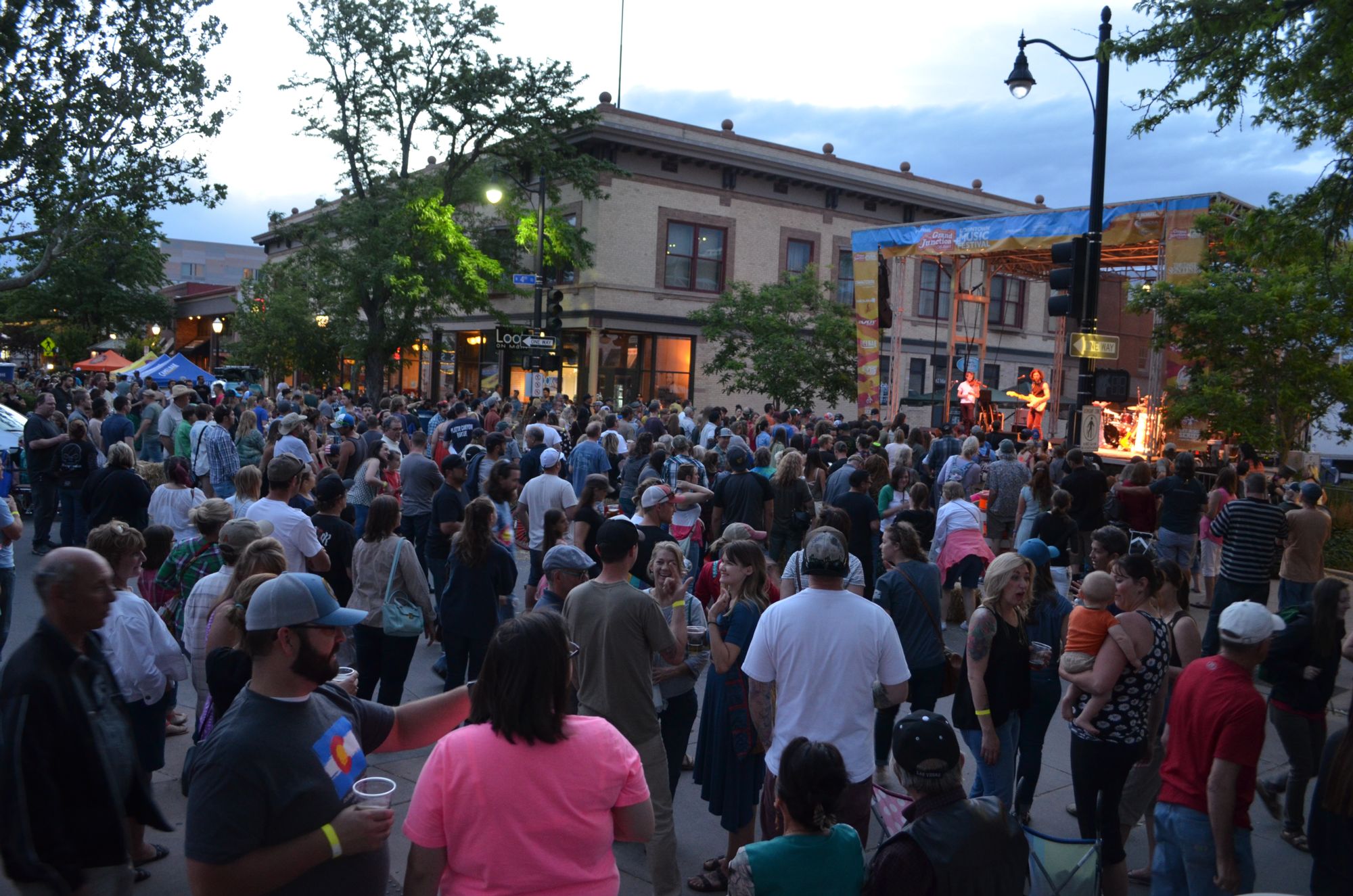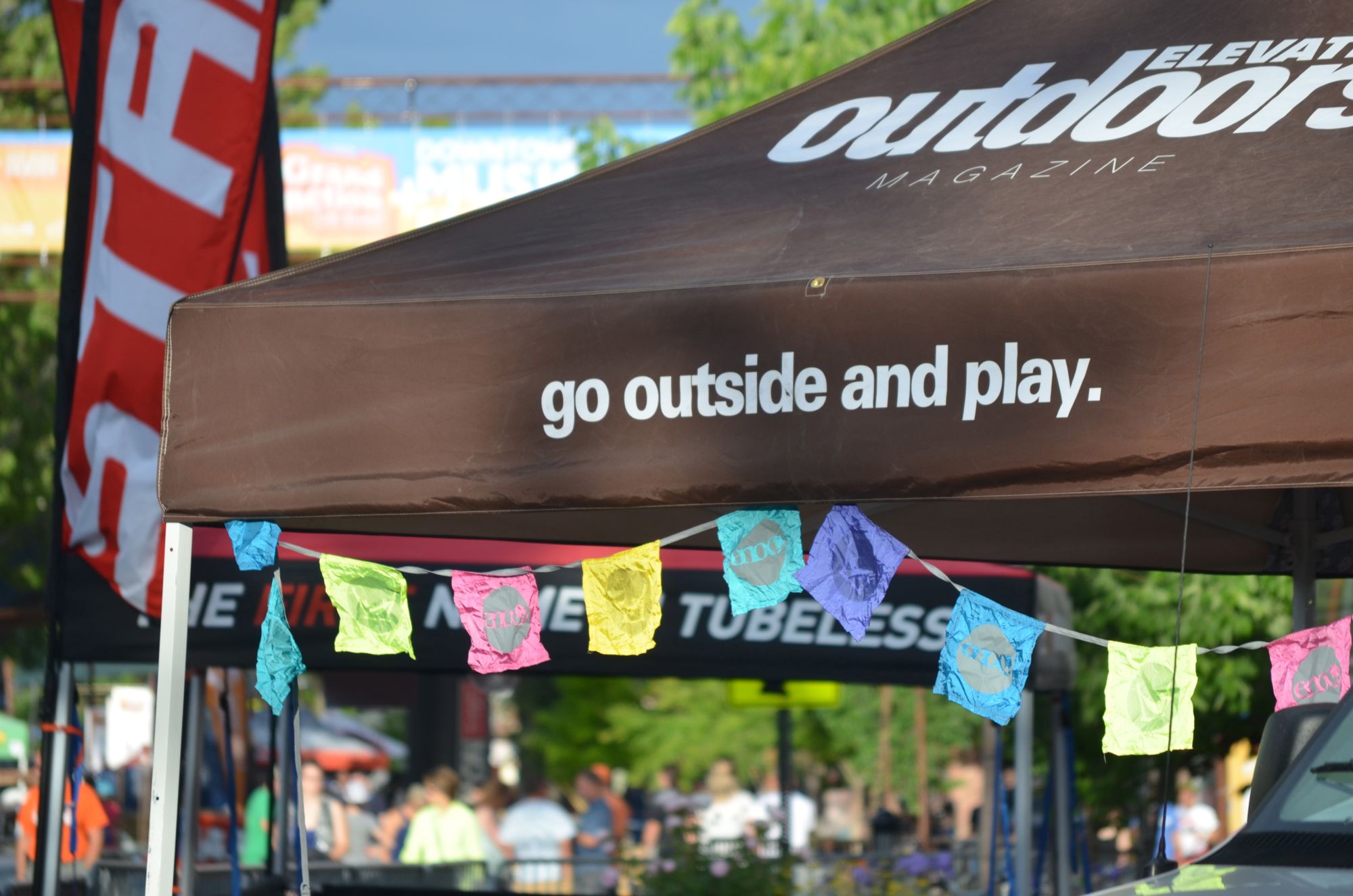 Article & photos by Carrie St. Clair
First Friday: May 6, 2016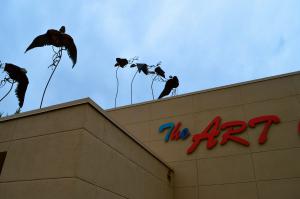 "...the human race is filled with passion. And medicine, law, business, engineering, these are noble pursuits and necessary to sustain life. But poetry, beauty, romance, love, these are what we stay alive for." - Dead Poets Society
These words were read aloud by the host of the night. Standing on stage with a suit and bowtie, looking out at the crowd encouraging us all to bid on art, art that would continue to support the Art Center and their mission. As the pieces were taken on stage and the microphone was exchanged from the host to auctioneer, it was anyone's chance to show their bid card and take home, "what we stay alive for." The energy was flowing not from the wine, but the auctioneer and excitement of winning. Calls shrieked out if a bid card was raised, the auctioneer zoned in on anyone with interest - encouraging, adding fun pressure and a few persuasive tricks to get more people to bid or raise the ones she was working. "Who wears the pants in the relationship?" was the highlight call of the night and resulted in a spouse grabbing the bid card from his lady to raise it up for the final win of $1,500. Cheers exploded and the gentlemen stood up and signaled with his hands and a smile that he was done. We all clapped as he walked out (although he did come back a little later). Some pieces were donated giving 100% of the sale price directly to the Art Center.
Another gallery show that opened at the Art Center that night was titled Everybody Wins. Rows of colorful 8x10 canvas pieces were displayed for a project centered around local children, with 200 pieces donated by kids. Participants turned a blank canvas into something really spectacular, adding their support to the Art Center in the process. Each piece was sold by purchasing a $50 raffle ticket and a chance to win $3,000.
I was having so much fun at the Art Center Auction that I never made it downtown to visit the other events of the night. As a new resident of Grand Junction, this was only my second First Friday experience and the first time I have walked through the Art Center's doors. Several other places were open to celebrate and showcase the endless expressions of Art. What surprised me the most was the variety, the eclectic styles, and level of talented artists in this town. So on the first Friday of next month, go downtown, walk around and peek in a few galleries or shops, watch people, stroll to dinner, catch a glimpse of anything hanging on the wall or resting on a stand. Just to participate is supporting the community and you never know, you might just walk away with something to stay alive for.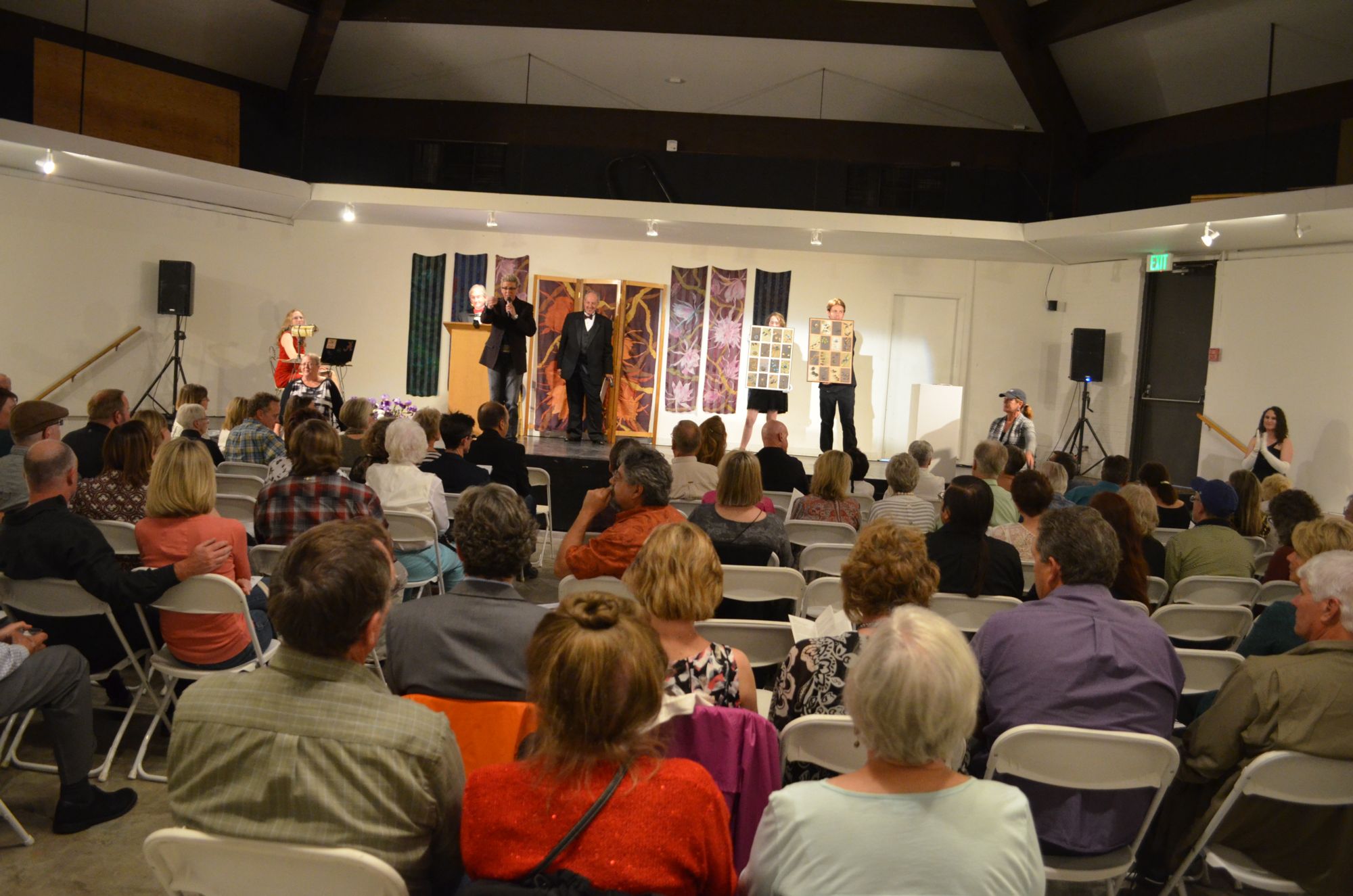 Article & photos by Carrie St.Clair