What's Spinning
---
The Radio Room Players Present: The Routine Noise of Living May 17th & 18th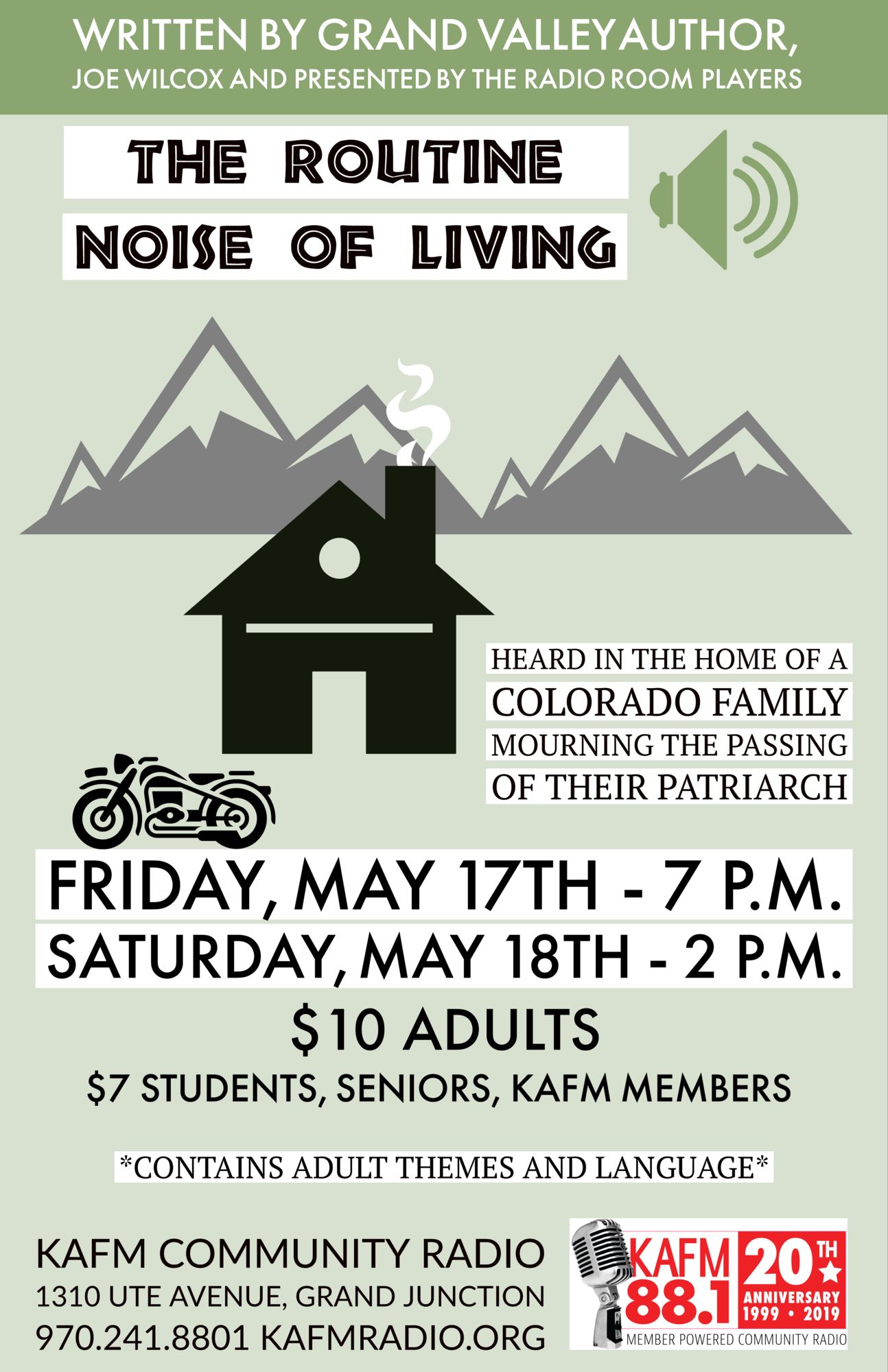 Written by Grand Valley author Joe Wilcox, the Routine Noise of Living is heard in the home of a Colorado family mourning the passing of their patriarch. As his daughters come to terms with his passing, his granddaughter faces problems of her own. tickets are for adults $10, $7 for students, seniors, and KAFM members.
May 17th
at 7pm and a Matinee on
May 18th
at 2pm
---
Cup A Jo' with Bittersweet Highway May 25th
KAFM Community Radio is proud to present Cup-a-Jo LIVE in The Radio Room on Saturday, May 25, 2019 at 7:30 p.m with opening act, Bittersweet Highway. Cup-a-Jo has been playing music in Colorado since 1996 and has established themselves as one of the finest acts in the area through their solid musicianship and exciting live performances. Their musical stylings range from Funk, Chicago Blues, New Orleans R&B, Jazz, and early style Rock n' Roll. Their most recent album, Between Jobs, was released in 2017 and is available on Amazon, CD Baby, iTunes, REVERBNATION, and Cup-a-Jo-band.com.

Bittersweet Highway is a singer-songwriter duo based out of Cedaredge, Colorado comprised of Rene' Janiece and Wayne McKinzie. Their music spans across genres and they call their personal brand of music, "Borderland Americana". With poetic lyrics and smooth vocals, Bittersweet Highway creates a wonderfully interactive experience that speaks to audience members. Their album, "It All Falls Away", was a finalist for the Best Album and Best Americana Singer-Songwriter at the Southwest Independent Artist Awards in 2017. Tickets are $18

---
KAFM Classic Film Series Disney's The Shaggy Dog June 4th
The son of dog-hating former mailman Wilson Daniels (Fred MacMurray), young Wilby (Tommy Kirk) accidentally becomes a canine himself when he stumbles upon an ancient curse. Inadvertently invoking a magical spell engraved on a centuries-old ring, Wilby begins turning into a sheepdog at unpredictable times, only to later return to human form. As if this wasn't enough for Wilby, he overhears a plot to steal secret government information while in dog form, leading to unexpected adventure. Tickets are $5. Show Starts at 7p and doors open at 6:30pm
---
Sugar and The Mint June 7th
Winners of the 2017 Telluride Bluegrass Festival, Sugar & The Mint, will be performing LIVE at KAFM Community Radio on Friday, June 7th at 7:30 p.m. Sugar and the Mint's spirited take on folk and bluegrass excites audiences across the country. The band synthesizes genres into a sparkling repertoire of original songs, balancing first-time singalong hooks with robust musicality. Sugar and the Mint's unique vocal approach features complex, ethereal harmonies supporting accessible melodies. Informed by everything from bluegrass to baroque to current pop and country, the traditional blend of guitar, violins, mandolin and bass instrumentation is anything but standard-fare acoustic music. Tickets are $20. Doors open at 7pm.
---
---
Jazztopia Combo Night June 12th in the KAFM Radio Room
KAFM is happy to host The CMU Jazz Workshop Students in a performance in the KAFM Radio Room. CMU Jazz Workshop offers the opportunity for high-school musicians to explore and develop their jazz skills in a combo setting. Students who are currently in high school or about to enter high school are eligible to attend. Thanks to the generous support of the Grand Junction Commission on Arts and Culture, Jazztopia is pleased to announce that guest artist John Riley will serve as a faculty member and guest performer at the 2019 workshop! Riley is one of the foremost jazz drum set artists on the scene today. He has performed with countless jazz greats and performs on drums with the Vanguard Jazz Orchestra in New York. Riley is also recognized as one of the most important pedagogues of jazz drums, having authored such staples as The Art of Bop Drumming and Beyond Bop Drumming.
Wednesday June 12 7:30PM (doors at 7:00)
Suggested donation $10 adults, $5 students
---
Summer Shakespeare Series offers Much Ado About Nothing June 13th
The Summer Shakespeare Series Begins with Much Ado About Nothing
In this Shakespearean farce, Hero, and her groom-to-be, Claudio, team up with Claudio's commanding officer, Don Pedro, the week before their wedding to hatch a matchmaking scheme. Their targets are sharp-witted duo Benedick and Beatrice -- a tough task indeed, considering their corresponding distaste for love and each other. Meanwhile, meddling Don John plots to ruin the wedding. Presented by Geek Parties of the Grand Valley. Doors Open at 6pm Show starts at 6:30. Tickets are $15 for adults $10 For Students and Seniors
---
Your Public Service Partner
KAFM is here for the community, working together with local non-profits to fulfill their missions to educate and improve the quality of life for everyone in the Grand Valley. If your non-profit organization has a message to share with our audience, please submit a PSA Request using our
contact form
, via fax at
(970) 241-0995
, or stop by our offices during business hours (Monday - Friday, 9am - 4pm).