A Celebration of Robert Burns January 25th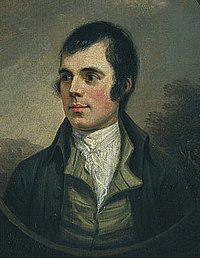 Robert Burns is perhaps the most honored of Scotland's sons. Through his life, his songs, and his poems, "Rabbie" Burns captured the heart and soul of Scotland as has no other, kindling in his countrymen a fierce pride in their own culture and independence that endures to this day. Grand Junction's own Celtic band, Fifth Reel and friends will share many of Burns' most treasured songs and poems, and will play the hornpipes, jigs, strathspeys and reels that define Scottish Traditional Music. Fifth Reel is: Connie Smith, Norm Ashley, Mick Wilson, and Ron Young. They will be joined by special guests: President of Clan Cameron Robert Cameron, Highland dancers Sarah Reed and Kim Kelleher, and piper Shawn Stewart. Together they will create a multi-dimensional presentation truly honoring the star of this show, Robert Burns, and Scotland's traditional music. Join us for Poetry, Songs and some Traditional Scottish fare.
Tickets
are $15 dollars in advance and $20 at the door. Event starts at 7:30p doors open at 7.
Local Bluesman AJ Fullerton in the Radio Room Feb 1st 7:30pm
In the few short years of his professional career, A.J. has won a number of awards & accolades. In 2016 he was the winner of the Colorado Blues Society's "I.B.C Competition" , as well as winning the following Colorado Blues Society "Members Choice Awards" for; Best Slide Guitar (2016), Best Acoustic Act (2016), Best Young Performer (2016), & Best Duo Act [A.J. Fullerton ft. Nic Clark] (2016). At the 2017 Colorado Blues Society "Members' Choice Awards" A.J. won an unprecedented 8 awards. Fullerton has played such events as; The International Blues Challenge in Memphis, TN., The Telluride Blues & Brews Festival, The Clarksdale Juke Joint Festival, Bohemian Nights New West Fest, and The Durango Blues Train. Playing on average 200-250 shows each year, A.J. is often hailed as, "The Real Deal", and is frequently called one of the hardest working young musicians on the scene.
Tickets
are $12 in advance and $15 at the door. Doors open 7pm
KAFM Classic film-Guess Who's Coming to Dinner? February 5th
This 1967 Classic that breezily presents the question of Interracial marriage and resoundingly supports it because love "knows no race" was a huge hit in the late 60's. It holds up well today considering racial tensions have improved since it's release, it is important to reflect that it wasn't that long ago that interracial marriage was illegal in many states. When Joanna Drayton (Katharine Houghton), a free-thinking white woman, and black doctor John Prentice (Sidney Poitier) become engaged, they travel to San Francisco to meet her parents. Matt Drayton (Spencer Tracy) and his wife Christina (Katharine Hepburn) are wealthy liberals who must confront the latent racism the coming marriage arouses. Also attending the Draytons' dinner are Prentice's parents (Roy E. Glenn Sr., Beah Richards), who vehemently disapprove of the relationship. Join us and see the last film that Katherine Hepburn and Spencer Tracy made together. Directed by Stanley Kramer
Tickets
are $5 and Doors open at 6:30p.
Karaoke Night! Wednesday Feb 6th
Get up over the hump Wednesdays from 7pm-9pm and have some fun with the KAFM monthly Karaoke Night. Talented locals will entertain the audience using our exceptional sound system and perform under the lights on stage. Come out for an evening of fun, talent and potential laughs.
Gallery 88.1 Art Auction February 9th 7pm
KAFM is not just a platform for music, but for ALL art in the Grand Valley. During the annual Art Auction, KAFM focuses entirely on local art and community engagement. Besides Gallery 88.1 being full of beautiful local work, Preview of this years show is on February 8th at 5pm where we'll serve appetizers and wine while you mingle with the Artists. Auction is on February 9th at 7pm Doors open at 5:00 for a social hour with wine, beer and appetizers. For more information and to view the pieces click
here
Your Public Service Partner
KAFM is here for the community, working together with local non-profits to fulfill their missions to educate and improve the quality of life for everyone in the Grand Valley. If your non-profit organization has a message to share with our audience, please submit a PSA Request using our
contact form
, via fax at
(970) 241-0995
, or stop by our offices during business hours (Monday - Friday, 9am - 4pm).