Stray Grass in the Radio Room Dec. 16th
Stray Grass is our own home-grown local bluegrass. The band members are locals that live, work & play in the Western Slope of the Grand Valley. Hiking, camping, fly fishing, skiing, mountain biking, whitewater rafting & off-roading are just a few of the outdoor activities they enjoy & the wonderful things the Grand Valley has to offer. Stray Grass specializes in a high-energy interpretation of acoustic music. Although played on traditional instruments (most of the time), the musical stylings of Stray Grass are anything but traditional!! Show starts at 7:30 and doors open at 7. Tickets are $15 in advance and $18 at the door available
here
KAFM Thanks all of you for showing your support of Community Radio!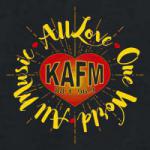 Thanks so much to all of you who have come out to support this Community Asset. We wouldn't be able to acheive our goal during the fund drive without you. We had an unprecidented response to our new member challenge by the GILL Foundation and we have over 40 new members that joined KAFM this drive.
We had some great music with live in studio visits by Gerry Goodman, Trevor Hall, Clyde and The Milltailers and Bobby Walker showing their support of what we do. We had great meals provided by awesome restaurants in the area that kept us going all week long. Thanks to Cafe Sol, Mihaela's Bakery, Lois's Place, Il Bistro Italiano, The Hot Tomato, Palisade Brewery, 7th Street Deli, Rockslide Brewery, Tequila's Restaurant, Baron's, Diorio's Pizza, Slice of Life Bakery, Main Street Bagels, Namaste Nepal, Blue Moon Bar and Grill, Rib City Grill, Which Wich, Applebee's, Peach Street Distillers, and Wine Country Inn. Thanks to our tireless volunteers who manned the phones, kept the organization going and brought us the phenomenal programming that you, the Community, enjoyed thru the week. Everyone combined made this entire week the great success that we are basking under. THANK YOU!!
Readers Radio survey-Help choose the topic for each show!
Help decide what books will be the topic for upcoming Reader's Radio shows. click on the picture and take the survey
Your Public Service Partner
KAFM is here for the community, working together with local non-profits to fulfill their missions to educate and improve the quality of life for everyone in the Grand Valley. If your non-profit organization has a message to share with our audience, please submit a PSA Request using our
contact form
, via fax at
(970) 241-0995
, or stop by our offices during business hours (Monday - Friday, 9am - 4pm).