Bluegrass and Beyond
Hear the newest Bluegrass, as well as your favorites, on this entirely Bluegrass show!

Tuesdays 4pm - 6:30pm.
Veta Bluegrass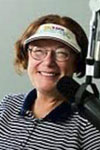 EMAIL
My earliest recollection with music is a little green record I had as a very young child. I shared a room with my older sister who shared her music with me (like it or not). But she and my older brother wanted to make sure I was listening to the popular music of the day. My parents listened to classical and took me to the symphony regularly.
As a teen I liked it all...folk (Peter, Paul, and Mary; Bob Dylan; Pete Seeger), soul (Otis Redding; Carla Thomas), Motown, early country (I would stay up late to listen to an AM station in Iowa) and cowboy, and rock (from the Beach Boys to Jethro Tull). I did a short stint with the radio station at Ole Miss. I was a guest DJ on a local GJ radio station. Until KAFM came on the air Grand Junction was in a musical void.
Fast forward to 2005. I thought that I would like to have a show on KAFM. I did my training and before long I was subbing. In the spring I was asked to co-host a Bluegrass show. WHAT? I knew next to nothing about Bluegrass. I would spend my day-off at the station listening to music and took copious notes about it, the musicians, the instruments.
Bluegrass is an organic music with mostly acoustic instruments. It touches so many styles of music: folk, Celtic, country, cowboy, Americana, pop, rock, jazz, even classical.
Eight years later and it has become part of my life. I am members of International Bluegrass Music Association (IBMA), Colorado Bluegrass Music Society (CBMS), and Folk Alliance International (FAI)l. I write for Pow'r Pickin', (CBMS) and for KAFM's column in the GJ Free Press. My husband, Joe, and I like to go to music conferences and Bluegrass/Roots Music festivals in Colorado and around the country. We enjoy meeting the musicians and listening to the different styles of Bluegrass and the way it relates to Roots music.
Do I have a favorite artist? Yes, my Bluegrass family. I have yet to find an artist that I don't like.
Bluegrass and Beyond plays everything from traditional Bluegrass to... well... Beyond, on Tuesdays from 4pm - 6:30pm.
Community Events
What's happening around town?
---