Moors and McCumber Visit the Radio Room July 27th 7:30pm
James Moors and Kurt McCumber are an acoustic duo specializing in Americana, folk, melody, and stories. While both men are successful solo songwriters, Moors being an official recipient of the McKnight Foundation Emerging Artist Grant and McCumber having won the Flat Rock Festival Songwriting Competition, when they come together their sound becomes larger than life. Moors & McCumber are on tour now supporting their new album, Aisling. Having collectively sold 15,000 albums independently from the stage, the duo is now releasing their fourth full-length studio album, showing that this Americana duo never stops creating.
Tickets are $18 in advance and $20 at the door. Purchase tickets by calling 970-241-8801 or online
here
John Otto-Chautauqua Event in the KAFM Radio Room August 4th!
In 1906, itinerant trail builder and dynamite expert John Otto saw the rimrock country south of Grand Junction for the first time, an event that forever changed his life. The deep canyons and sandstone cliffs spoke to his ideas about patriotism, religion, and the nation's future. He dedicated his life to protect, celebrate, and promote what he envisioned as a natural paradise. Otto's manic efforts culminated in the establishment of the Colorado National Monument. This is his story!
The evening will begin with a Wax Museum presented by Young Chautauquans, elementary to high school age youth from throughout Mesa County, who will recreate different historical characters. Starts at 6:30pm Doors open at 6.
Limited seating For reservations: (970) 242-0971.
KAFM'S SUMMER CELEBRATION RAFFLE!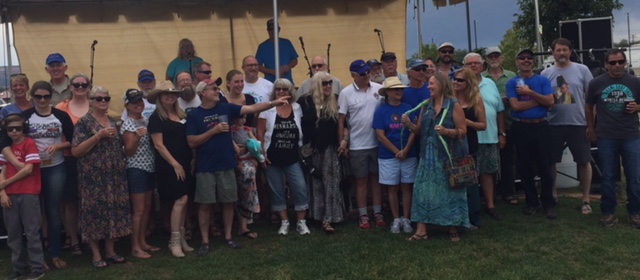 Radio Daze is more than just a fundraiser for KAFM.
It's a time for KAFM to thank our community for all of the support they give us. From live music by friends to specialty beer brewed JUST for us, Radio Daze is a gift from our home, and we are so excited to see everyone at the Party! Performances this year by Zach Grant, Lincoln Park Band, Thomasina Russell and Friends and Bicycle Annie! SPECIAL THANKS to our friends at Kannah Creek for hosting us each year, providing 300 Watt Ale for our cause, and giving us 100% of the profits from the 300 Watt Ale sales! Join us August 12th 3-9pm at Kannah Creek's Edgewater Brewery for Music, Food and excellent brews! We will be Raffling off some great prizes donated by some of our wonderfull sponsers. Raffle tickets are available
here
with the list of GREAT PRIZES!
Visit us over the next few weeks at these locations to get your Tickets!
7/11

Palisade Brewery Taco Party 5-8:30p
7/15

Peach street Distillers 5-10p
July 21

, 22, 23 Local Jam Edgewater Brewery 5-8p
8/3 Brown Cycles 5-8:30p
8/8 Palisade Brewery

5-8:30p
Looking for New Tunes?
Check out the
KAFM Music Blog
! Weekly postings of new songs at KAFM, music events, and other music-related-phenomena.
Your Public Service Partner
KAFM is here for the community, working together with local non-profits to fulfill their missions to educate and improve the quality of life for everyone in the Grand Valley. If your non-profit organization has a message to share with our audience, please submit a PSA Request using our
contact form
, via fax at
(970) 241-0995
, or stop by our offices during business hours (Monday - Friday, 9am - 4pm).