Community Resources
In an effort to support our community's public health and the well being of our local business community, we will be adding updates and resources regarding COVID-19. Please check our Community Resources page for full details.
7 Simple Ways You Can Support Local Businesses
Shop Local Now!

Buy a Gift Card – Support service based businesses by purchasing a gift card now to use later. Your investment can help the business sustain themselves during this time and you'll be able to treat yourself later!
Buy Now, Pick Up Later – Support product based businesses by purchasing an item now to be picked up later. Many local restaurants are currently offering take-out or curbside pick up.
Tip & Say Thank You – Many employees are continuing to work with the public. Let them know you appreciate their hard work by tipping appropriately and remembering to say thank you.
Continue Your Membership or Subscription – Many organizations rely on membership or subscription based due. Support businesses by continuing these services.
Engage Online – Support local businesses by engaging with their online content. Spread encouragement by posting a positive comment, liking a post, and sharing content.

Talk to a Business Owner – Reach out to a local business owner and ask what you can do to support them at this time. Let them know they're not alone.
Stay Positive – Remember that we are a community and we are all in this together! Rather than spreading fear, seek opportunities to lend a helping hand and spread a positive message.

Hello Faithful KAFM Listeners and Underwriters,
With regard to the GLOBAL situation that is unraveling in the US and now close to home, please know that KAFM is going to do everything we can to stick to regular programming, during this challenging time for all of us. We are committed to be the resource of critical community information and to be the voice of accurate information and calm during this National Emergency.

Radio has provided ongoing broadcasting in the United States since the early 1920s. Since that time, Radio has been the first point of communication during National Emergencies to distribute news and entertainment to a national, regional and local audience. As much as is possible, while still protecting our On-Air Programmers, Volunteers and Staff, we fully intend on providing live programming.

With the exception of what you hear on KAFM between the hours of 12am to 6am, ALL of our music programs are locally produced and hosted live; we are however giving our Programmer's the option to stay home and ride this out if that is their best course of action regarding theirs and their loved ones health.

So as this unfolds, there may be times when you tune into KAFM you may hear Programmers shifting to assist other shows, and possibly evergreen and automated programming from time to time. If there are times when the station has to run automation, you will likely hear a musical variety that we pride ourselves on here at KAFM.

Thanks for your continued support of KAFM, we are in this together with you and our community.

To your good health!

Thanks for listening,
Cyrene Jagger
Executive Director, KAFM
What's Spinning
---
POSTPONED | The Gunny Sons April 3rd
Originally from Detroit, Michigan and Nashville, Tennessee, Eric Kelly and Ian Fondrk formed the Gunny Sons where the Gunnison and Colorado Rivers meet in Grand Junction, Colorado. Their unique two guitar front with an extra helping of heavy harmonies and "one man band" style drums is a fresh approach to the Americana/Folk/Blues Genre.
Kelly's previous bands have shared stages with The Nitty Gritty Dirt Band, Lucero, Shooter Jennings, and Eric Church, to name a few. Fondrk's band was a regular in the Nashville club scene before his move to Colorado.
---
POSTPONED | The Doubious Brothers April 10th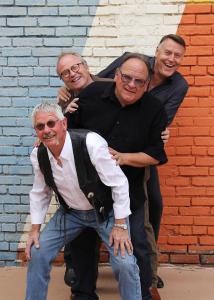 You may recognize their musical talents from such bands as Ralph Dinosaur and the Fabulous Volcanos, JT & the Big Dogs, Stray Grass, and most recently, The Doubious Brothers. Their current project is in many ways an accumulation of all of their musical experiences presented in a fresh, eclectic way. Members include Doug "Doub Doubious" Simons – vocals, guitar, guitjo and mandolin; Pete "Flaco Doubios" Langford – bass; Joe "Buck Doubious" Kendrick – vocals and drums; and Michael "Hinter S.Doubious" Frazier – vocals and guitar. They have been playing in different musical arrangements across the Western Slope for nearly four decades, opening for such bands as Los Lobos, John Mayall, Cheap Trick, Tab Benoit, The Fabulous Thunderbirds, Merle Haggard, The Nitty Gritty Dirt Band and Sam Bush and Del McCoury. With influences of Americana, blues, rock, country and jazz, they will have you tapping your toes and jumping out of your seat. You'll find yourself singing along to a great selection of music from the past and present. Don't miss this "Doubious" combo of musical brothers. Your day won't be complete without them!
---
Your Public Service Partner
KAFM is here for the community, working together with local non-profits to fulfill their missions to educate and improve the quality of life for everyone in the Grand Valley. If your non-profit organization has a message to share with our audience, please submit a PSA Request using our contact form, via fax at (970) 241-0995, or stop by our offices during business hours (Monday - Friday, 9am - 4pm).