What's Spinning
---
Quicksand Soup November 15th-SOLD OUT
Quicksand Soup is a high energy alternative bluegrass band based in Moab, Utah. Led by songwriter Sand Sheff, Quicksand Soup features top notch instrumental talent and catchy and unique songs. Quicksand Soup will be performing LIVE in the KAFM Radio Room on Friday, November 15th!
Comprised of songwriter Sand Sheff, lead guitarist David Steward, mandolinist Eric Jones, bass player Alan Snow, and fiddler Tamara Frieda, Quicksand Soup is a well-rounded quintet that will leave crowds wanting more! Music Row Magazine in Nashville, Tennessee has called them the definition of Americana. Their songs are infections with strong country, folk, bluegrass, rock, and even jazz influences. Show Starts at 7:30 doors open at 7. Tickets are $20.

Stray Grass December 7th
Stray Grass, a popular bluegrass band in the Grand Valley, is returning in Concert on Saturday, December 7, 2019 in KAFM's Radio Room. Come out to enjoy the band's smooth sounds. Their sound includes a high-energy interpretation of acoustic music. Although played on traditional instruments, the musical styling of Stray grass are anything but traditional! Stray Grass musicians include guitarist/vocalist Ted Shook, Byron Walcher on banjo, Dave Rowley on bass, and Garry Tullio on mandolin and vocals. Stray Grass has opened for the Infamous Stringdusters, Cadillac Sky, Hot Buttered Rum, Nitty Gritty Dirt Band, and many others. Tickets are $20 show begins at 7:30pm doors open at 7:00pm
Colorado Gives Day December 10th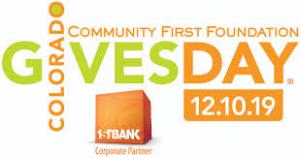 ColoradoGives Day 2019 is coming right up! We're set for Tuesday, December 10th! Last year, YOU helped us raise over $3,000 for KAFM! Lets see if we can raise that number this year! Click
HERE
to donate to KAFM! Colorado Gives Day will help your support go even further... Besides funding great music and community affairs programming, your individual contribution will help go even further to support KAFM when you send in the gift on COLORADO GIVES DAY, coming up December 10th, 2019! You can contribute any time during the year! Your dollars will go further to help KAFM provide our unique community service, just by scheduling your Donation at the right time. Colorado Gives Day and Community First Foundation and Firstbank will add to your contribution to KAFM with a portion of a $1 Million Incentive Fund. Pledge online at ColoradoGives.org, or you can even pre-schedule your gift to count on Colorado Gives Day. Either way, you'll increase the value of your commitment to KAFM! It is super easy! Just go to the following website and enter your donation of any amount for KAFM.
Your Public Service Partner
KAFM is here for the community, working together with local non-profits to fulfill their missions to educate and improve the quality of life for everyone in the Grand Valley. If your non-profit organization has a message to share with our audience, please submit a PSA Request using our
contact form
, via fax at
(970) 241-0995
, or stop by our offices during business hours (Monday - Friday, 9am - 4pm).