Lonesome Larrys Lava Lamp Lounge
Friday • Mid-3am
Lonesome Larry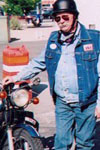 EMAIL
I play vintage and new garage, psych, folk, progressive, r&b,etc. I strive to champion groups and individuals who could/should have been more famous (i.e. Love, Moby Grape, etc.). I also keep my eyes and ears open to new and exciting groups and individuals who not only play authentic sounding vintage '60s music but keep it "real" as well as fresh and innovative.
I've loved and played music my whole life. I play guitar, bass, dobro and resonator, and sing as well as write songs. My maternal grandfather (Earl Myers) played sax in a Dixieland band back in the '20s and the early '30s. I play mainly blues and bluegrass myself. I love all types of music, but like most "boomers," the '60s music scene defines me. Bands such as the Beatles, the Rolling Stones, the Beach Boys, Creedence Clearwater Revival, early Fleetwood Mac, the Yardbirds, Jimi Hendrix and individual artists such as Bob Dylan, Randy Newman, Harry Nilsson and Shawn Phillips "turn my crank."
I love everything by the Beatles, the Yardbirds, Creedence Clearwater Revival and Jimi Hendrix, and I have a few new fave bands/individuals such as Lawrence Arabia, Swamp Cabbage, Caravan of Thieves, Pearl, Hamilton Loomis, the Hives, the Gourds and the Black Angels.
Community Events
What's happening around town?
---