2018 Gallery 88.1 Art Auction and Mini's Show
Join us for the Annual KAFM Gallery 88.1 Art Auction and Exhibit. This year we've add a mini's art show where no piece is larger than 12x12 and a post card show to get the best variety of art for all art lovers. Preview night is January 20th at 5pm and the Auction is January 27th at 7pm. Come out to support the local artists and KAFM and adorn your walls or get a gift for someone you love.
Tony Furtado Returns to The Radio Room for 2 Shows!
Tony Furtado, the acclaimed and award-winning singer, songwriter and multi-instrumentalist, is an acknowledged master of many different styles and sounds. Relix Magazine put it best when writing of Tony's music, "True talent doesn't need categories." From bluegrass to blues, from folk to rock, from banjo to slide guitar, the music of Tony Furtado knows no boundaries. His versatility and wide-ranging imagination are on full, vivid display on Cider House Sessions – Live at Reverend Nat's, Tony's highly anticipated live acoustic release that draws from all phases and periods of his career. Tony is playing 2 shows at KAFM on February 4th. 5pm and 8pm. For tickets to the 5pm show click here. For 8pm click here
KAFM Film Series showing No Way Out (1950) February 6th at 7pm
No Way Out is a 1950 black-and-white American film noir directed by Joseph L. Mankiewicz, and starring Richard Widmark, Linda Darnell, Stephen McNally and Sidney Poitier (in his screen debut) who portrays a doctor tending to slum residents whose ethics are tested when confronted with racism, personified by Richard Widmark as the hateful robber Ray Biddle. One of the early pictures released during the McCarthy era about racism in America this movie doesn't shy away from the overt and aggressive bigotry of the Ray Biddle character. This is not a study of subtle racism in society, or a commentary about sources and or solutions it's designed to slap you in the face and ask "What are you gonna do about it? Show starts at 7p doors open at 6:30. Tickets are $5 and can be purchased here.
Celebrate Fat Tuesday with KAFM at the Mesa Theater
Slip into your Masks and pick up some beads then Indulge, Revel, and Surrender to your Senses with KAFM for Fat Tuesday At the Mesa theater. Dance to the Gypsy Jazz Social Club as they bring the party to the Mesa on February 13th at 8pm. Mysterious... yet strangely familiar, the Gypsy Jazz Social Club (GJSC) musical journey embraces the acoustic swing sound pioneered in the 1930s and 1940s by Django Reinhardt and others and is today enjoying a resurgence in popularity among musicians and jazz aficionados alike. Tickets are $10 in advance and $12 at the door. Tickets available
here

Front Country February 28th in The Radio Room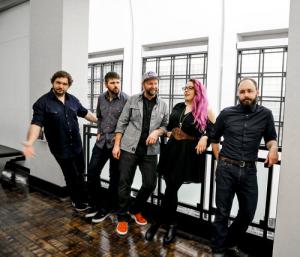 This West Coast outfit was just a group of friends playing a monthly gig until 2012 and 2013 when Front Country gathered around a single microphone at the RockyGrass and Telluride festivals, and won first prize in those prestigious band contests that once launched the careers of the Dixie Chicks, Greensky Bluegrass and the Steep Canyon Rangers. The contest wins bolstered their confidence in their unique mix of original songwriting, vocal harmonies and instrumental virtuosity, steeling their resolve to take a leap of faith and become a full time touring band.
Their latest Album "Other Love Songs" is Front Country's first record relying on lead singer Melody Walker's songwriting, first and foremost. With 8 of the 12 tracks penned by Walker, and the two instrumentals composed by mandolinist Adam Roszkiewicz, it is their most original body of work yet. Round out the intensely creative band arrangement style of guitarist Jacob Groopman, bassist Jeremy Darrow and five-string violinist Leif Karlstrom, and the synergy is electric. All together, the majority of the songs are quite emotional in nature and tend toward relationship themes, sometimes with a twist, hence the title Other Love Songs. Tickets are $18 in advance and $20 at the door and can be purchased
here
Readers Radio survey-Help choose the topic for each show!
Help decide what books will be the topic for upcoming Reader's Radio shows. click on the picture and take the survey
Your Public Service Partner
KAFM is here for the community, working together with local non-profits to fulfill their missions to educate and improve the quality of life for everyone in the Grand Valley. If your non-profit organization has a message to share with our audience, please submit a PSA Request using our
contact form
, via fax at
(970) 241-0995
, or stop by our offices during business hours (Monday - Friday, 9am - 4pm).