The Morning Muse
Monday • 6am-9am
The Oracle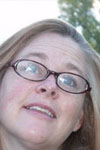 EMAIL
As the Oracle, I prophesize very important life-changing events such as, "Things often go awry on Mondays, disproportionately to other days." I feel it is my job to get the listeners' Monday off to a better start. I always start my show with the Clash's "Guns of Brixton," because I feel it has the calming effect of reminding listeners that things could always be worse. I play upbeat music that grows in intensity as the morning progresses. I think that morning is a time for exciting music for waking up.
I started my glamorous DJ gig at KAFM in 2003 when my friend Jen dragged me to the station to do the training. I thought she was crazy. In 2004, she and Marla Wood and I created the show Habit Forming, which aired Saturday nights from 6 pm - 9 pm. In those days, I explored blues and especially devoted time to women singing the blues. On my morning show, I like to occasionally play that music, too. In May, 2009, after a year and a half hiatus from programing, I returned to do The Morning Muse. I continue to play rock, blues and Americana.
My all-time favorite album is STREETCORE by Joe Strummer and the Mescaleros. I am a big Clash fan, too. Lately, I have been obsessed with the band Cake.
Community Events
What's happening around town?
---